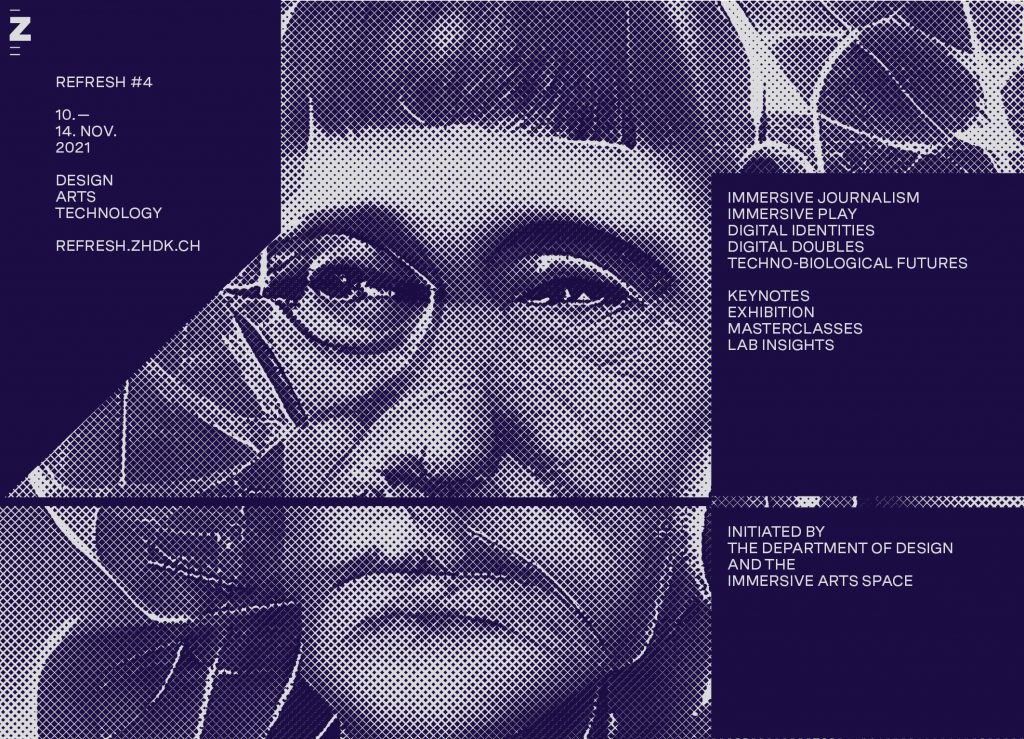 The REFRESH#4 conference on Design, Arts and Technology took place from November 10th to 14th 2021. The fourth edition focussed on the topics «Immersive Journalism», «Immersive Play», «Digital Identities», «Digital Doubles» and «Techno-Biological Futures». The conference featured keynote speeches including panel discussions with national and international guests as well as a large exhibition have been part of the conference. 

Photographs of the conference have been published and can me viewed in this gallery. All photo credits are with Regula Bearth, ZHdK 2021.
The Immersive Arts Space hosted the Lab Insights and a VR exhibition. Team members offered insights into the projects Shifting Realities (explorations within the intersection of reality and virtuality), Neural Volumetric Capture (experimental methods for capturing photorealistic 3D models), Digital Twins (development of animated digital avatars based on photogrammetry and Meta Humans) and cineDesk (a real-time collaborative simulation tool for the development of film scenes, VR experiences and games in 3D spaces).
Credits:
Multiuser VR: Chris Elvis Leisi, Oliver Sahli
Helium Drones/ SAR: Martin Fröhlich, Max Kriegleder,
Joel Gähwiler, Roman Jurt, Mariana Grüning
Volumetric Capture: Florian Bruggisser
cineDesk: Norbert Kottmann, Valentin Huber
Sound Design: Luca Magni
Lights: Sébastien Schiesser
Project Lead: Martin Fröhlich
Production: Kristina Jungic
Head of Unit: Christian Iseli
---