> Scroll down for English version

---
Die Zürcher Dokumentarfilmtagung ist eine Veranstaltung des Institute for the Performing Arts and Film in Zusammenarbeit mit der Fachrichtung Film der ZHdK. Mit freundlicher Unterstützung durch den Schweizerischen Nationalfonds zur Förderung der wissenschaftlichen Forschung und in Zusammenarbeit mit SRF Dok, dem Bereich Dokumentarfilm und Reportage des Schweizer Fernsehens SRF.
Forschung und Dokumentarfilm
Seit 2008 fördert die Zürcher Dokumentarfilmtagung ZDOK die fachliche Debatte über aktuelle Formen des Dokumentarfilmschaffens mit namhafter internationaler Beteiligung. Das Ziel der Tagung ist die Gegenüberstellung von prägnanten Positionen aus unterschiedlichen Perspektiven. Filmschaffende legen mit ihren Werken und mit Referaten unverwechselbare Haltungen und Arbeitsmethoden dar, während Filmwissenschaftler/innen das jeweilige Tagungsthema aus theoretischer Sicht beleuchten. Diskussionsrunden führen die beiden Blickwinkel zusammen.
Redaktionsgruppe ZDOK.19
Sabine Gisiger, Miriam Loertscher, Pierre Mennel, Kristina Jungic, Christian Iseli (Leitung)
Kontakt: zdok.info(at)zhdk.ch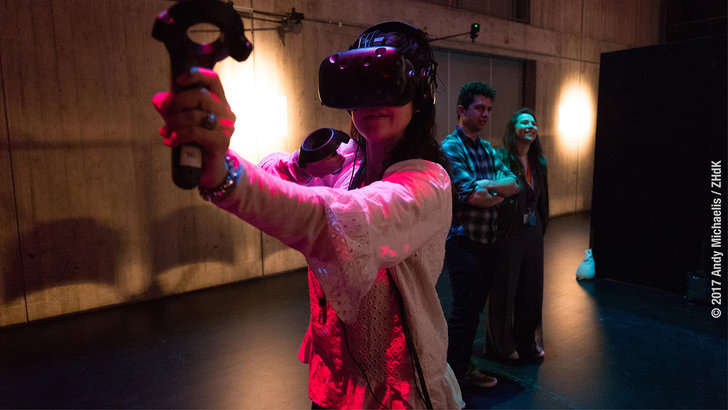 The Zurich Documentary Conference ZDOK  is a yearly event of the Institute for the Perfoming Arts and Film in cooperation with the Subject Area Film at the Zurich University of the Arts ZHdK. With friendly support by the Swiss National Science Foundation (FNSNF), in cooperation with SRF Dok, department of Documentary Film and Reports.
Research on documentary
Since 2008, the Zurich Documentary Conference ZDOK has been promoting the professional debate on current forms of documentary filmmaking with notable international involvement. The aim of the conference is the juxtaposition of positions from different perspectives: Filmmakers use their work to present distinctive attitudes and working methods, while film scholars illuminate the topic of the conference from a theoretical point of view. Panel discussions bring together the two perspectives.
ZDOK.19 team:
Sabine Gisiger, Miriam Loertscher, Pierre Mennel, Kristina Jungic, Christian Iseli (lead)
Contact: zdok.info(at)zhdk.ch