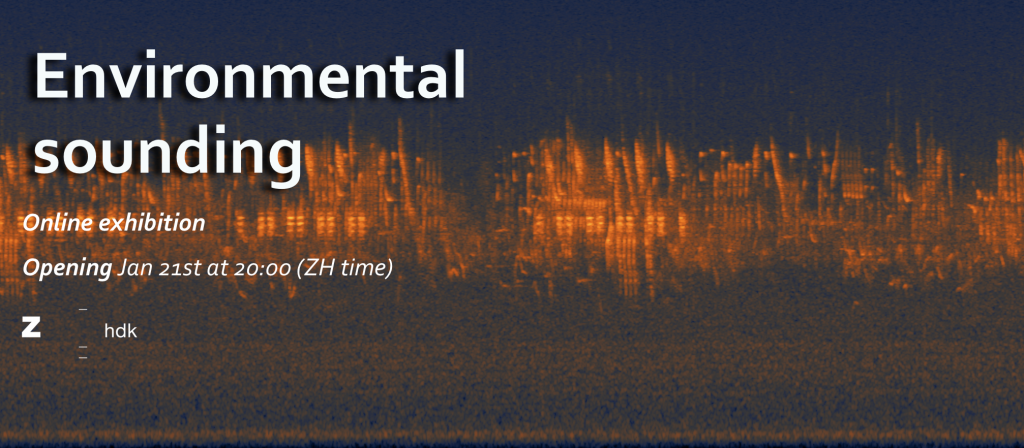 How to open a dialogue between our sonic environment, scientific datas and musical approaches?
Environmental sounding is the online presentation of the artworks created during the Acoustic Ecology seminar and Sound & Environment course of Marcus Maeder in autumn 2020.
The works were inspired by scientific measurements, field recordings and musical approaches exploring environmental questions and impressions from a sonic perspective. How the soundscape can give us scientific knowledge but also artistic perspectives? What are the political possibilities of environmental listening?
From ambient music to sound mapping in Zürich (CH), the works bring an artistic approach to a scientific way to listen to our soundscape.

Online opening 21.01, 20:00 (ZH time).
---
Soundmap of Glattpark (Zürich, CH)
The sounds were gatherd by the students from the Acoustic Ecology course (ZhdK and ETH students), in order to contribute to the soundmap of Marcus Maeder.
link: https://www.soundmap.kentai.ch/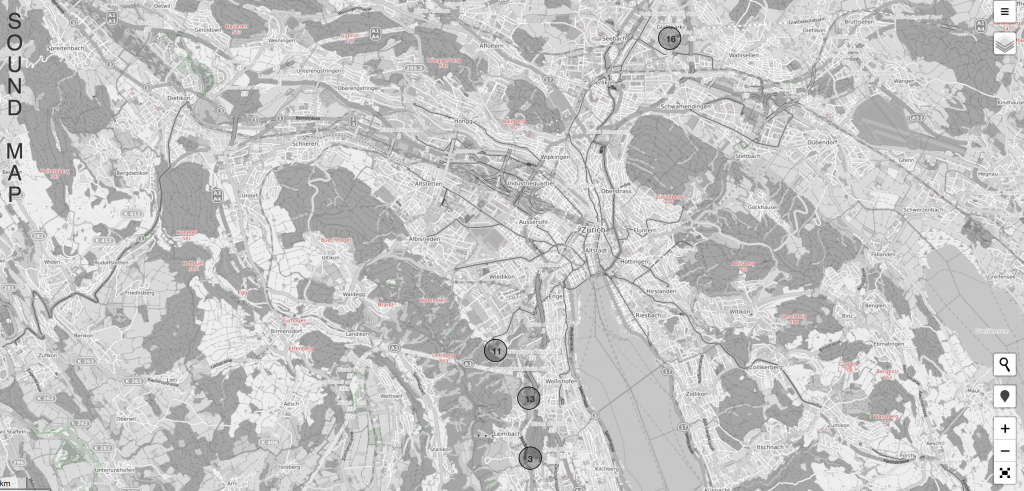 ---
Aline Stadler – presentation text Journal of Acoustic Ecology 2020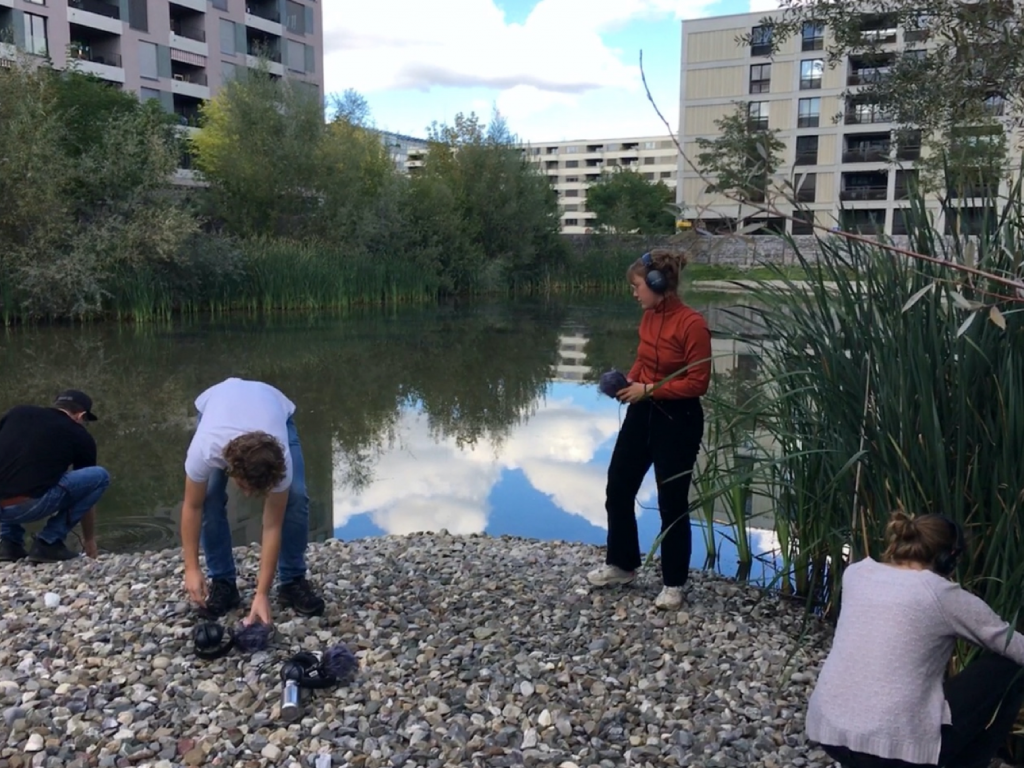 ---
Ernesto Coba Antequera – « Ayaa »
ayaa is a composition based on field recordings, some of them made in confinement and others taken from personal archives. It was therefore defined by current Covid-19's conditions. It is a "sonogenic" piece, a term coined by composer Francisco López to refer to a creative approach in which sound itself suggests and leads the compositional decisions, structure and nature.
Bio : Ernesto Coba Antequera (b. 1976 in Barranquilla, Colombia) is a multifaceted artist, electronic musician and sound designer. He studied visual arts, audio engineering, transdisciplinarity in the arts and linear/interactive sound design. His work comprises numerous installations, compositions and sound design for diverse artistic formats. His main interests are nature, immersion, spatial audio and circular time. He currently lives and works in Zurich, Switzerland.

Listen more on : https://soundcloud.com/ecasnd
---
Madli Marje Sink – « Three Studies on plant biology, I Osmosis »
In my composition I have used the idea of osmosis as an inspiration for the musical form. In the beginning of our course Marcus Maeder introduced us his recordings of sounds emitted by pine trees during periods of drought and caused by embolism in the water transportation system. That created a deeper interest in me to explore further the process of how water enters a tree, moves all the way up and gets dispersed. I decided to depict this process of water and air circulation also in my own composition mixed with recordings of my own from the soil in Glattpark and also from the Hönggerberg forest as a sonic "study" of the subject. One can hear simultaneously what is/what might be happening inside this imaginary tree, how the water and air moves from the roots to the very top of the tree, the changes in water tension and other constantly present sounds within the soil. It should be mentioned that his project is not strictly or literally following any of the mentioned processes and is an artistic interpretation/recreation of an imaginary soundscape inspired by all the recordings made by myself, with my colleagues and introduced by Marcus Maeder throughout the course.
Bio : Madli Marje Gildemann(Sink) (b.1994) started studying composition at the Georg Ots Tallinn Music School under the guidance of Tatjana Kozlova-Johannes and Andrus Kallastu. Now she is continuing in the Mathias Steinauer composition class at the Zurich Academy of the Arts. She has composed music from solo repertoire to larger chamber groups and orchestra. Her music has been in the program of various festivals, including Estonian Music Days, Baltic Music Days, World Music Days and the ISCM international Rostrum of Composers in Helsinki. Her music is mainly inspired by folklore and bioacoustics.

Listen more : https://soundcloud.com/madli-marje-sink
---
Eric Larrieux & Mélia Roger – « the Air listening station », artistic research project with Umwelt- und Gesundheitsschutz Zürich and Kuratorium Oekologie, ZHdK
Work in progress
The air listening station is a cabin, where listeners can enter and experience a soundscape live streamed from the rooftop of Toni-Areal, sonically modified by the measures of the particles in the air, in the same location. Through this transformation, the public can experience the variations of those particles and get a sense for "Air Quality" via "Ear Quality".

The process is called 'sonification', it allows the listener to hear data which is normally silent. In real time, we can hear the changes of the respirable particulate matter (PM10 and PM2,5), nitrogen dioxides (NO2) and ozone (O3) all assigned to specific sounds.
Because of the COV-19 situation, our work in the UGZ lab is slowed down but we could already gather some recordings under the air quality sensors in the different locations in Zürich. The lab was also provinding us some data to start to work with, in order to explore the sonic identity we want to give to the sonification process. We use granular synthesis to figurate the "particle", assigned with different speed, length and density parameters, regarding of the data coming from the sensors. The data modifies the field recordings through the granular synthesis, to give the emotional impression of the data signification.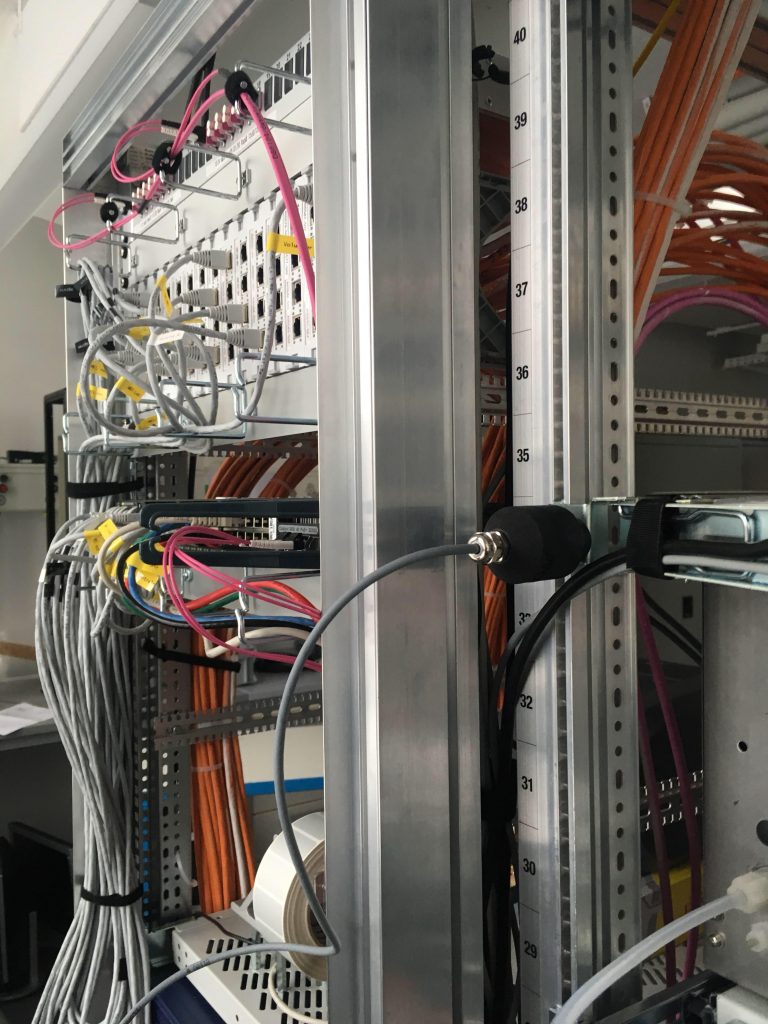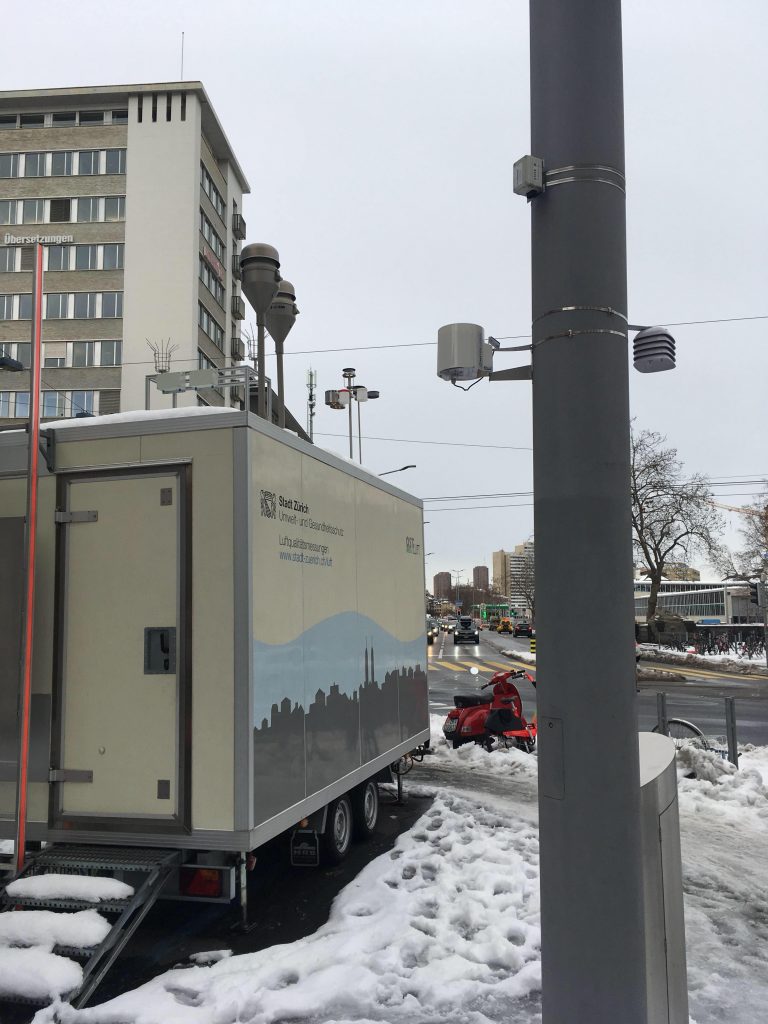 This project will allow us to contribute to a broader study on air quality measurement and world live sound mapping.
More upcoming informations : https://meliaroger.com/
---
Vivian Wang – « THREE PLANES OF EXISTENCE – AN EAR TO THE GROUND »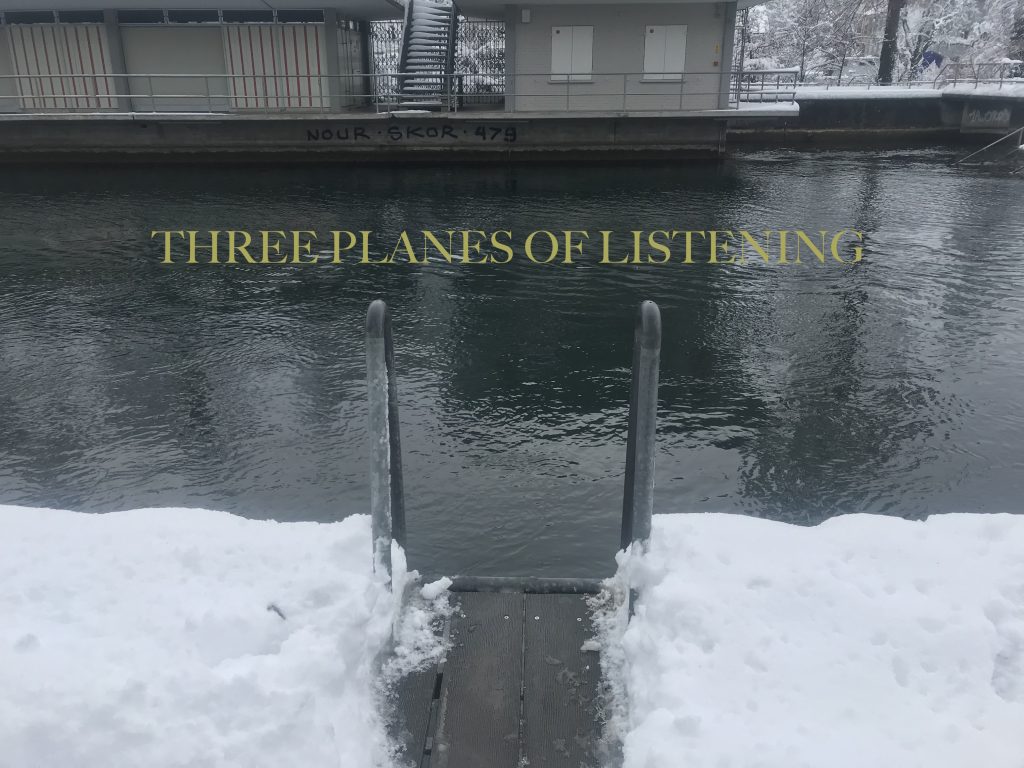 In these times, I realise that even the way I listen has changed. My social and physical interactions may have shrunk but my gaze into the outside world is becoming larger, roomier. This is curious for a number of reasons, not least because of an ever expanding imagination. Time also feels different. It is probably the same for others. I've become more aware of what I hear, even small or barely perceptible sounds.
At the moment, I live a mundane existence, taking a cold swim midday, everyday in the Limmat. I frequently walk across the Viaduct, from one end to the other, often late at night. Sounds criss-cross like lines of energy, from people zigzagging across the park below to the frequent passing of trains just above, the occasional piercing shards of trams arriving and leaving, blending with industry, traffic, trees and animals, all filtered through the centuries' old stone arches. My flat is on the 5th floor. My window faces a strange triangular plot of three buildings framing a distant and often mist-laden Uetliberg. Straddling two dead end streets, these buildings bustle with life behind glass windows into which I spend hours looking and contemplating. For this exhibit, I would like to share sonic explorations of three different planes that directly mirror the environments I move through. Where existence lies, these planes are different in height, but they also present very different experiences. Detail, imperceptibility, love, fascination, sensation, pleasure, energies both human and animal, these proliferate and amplify a world that reveals more than one could hope for.
Listen more : https://vivianwang.bandcamp.com/
---
Yunah Proost – « What they whisper » – live performance

Can we perceive silence as a transparent rope that pulls us into a state of concentration in which it's enveloping quality gives us notion of it's quiet speech?
Is there a hierarchy or an ensemble of layers in that mute speech?

How could we zoom in on those different layers?

Can we bring about the concept of multi-dimensional listening, brought to life by an artistic game that would give a metaphorical voice to that silent language?

The result could be a collection of tales echoing the legends of flowers and leaves in which the rhythmical pulsation of quiescence dwells.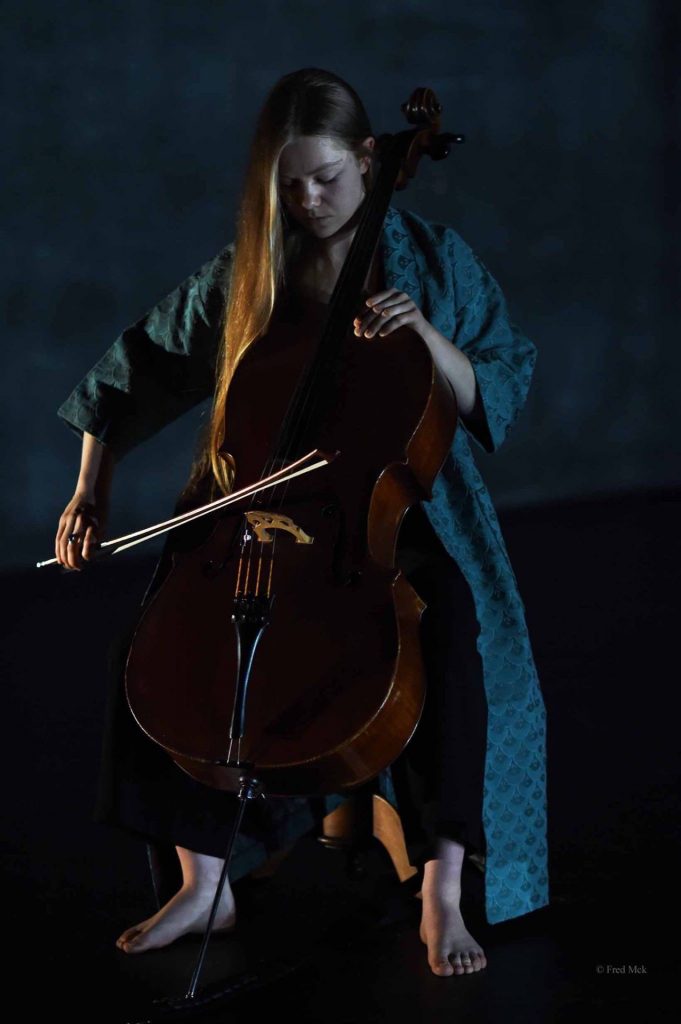 1) What they whisper
2) Silent Tale from the Underground
3) True Solitude is found in the Wild Places
4) Dancing Roots
5) From the Eyes of Leaves
Bio : Yunah Proost completed her Master in classical music performance in the Royal Conservatoire of Antwerp in the class of Justus Grimm. She also studied one year in London during an Erasmus exchange and one year in Maastricht before coming to Zürich for a CAS performance Klassik. Yunah has always been very passionate about interdisciplinary art collaborations. She loves working with dance, creating music for and performing in theatre pieces for example in the opera of Cologne, Parktheater Eindhoven, and other venues in Belgium and the Netherlands. Yunah is as well very interested in traditional music. She has been studying Persian music and plays the 'kamanche', an eastern string instrument. A fairly new interest in ambient music and sound ecology and environmental art has brought Yunah to create this first project experimenting with the combination of electronic and acoustic soundworlds, in search for a new, personal style to develop.

You can now listen to the recordings of the live stream, and more here.
*
Curated by Mélia Roger
In collaboration with Wunderkammer, Glattpark