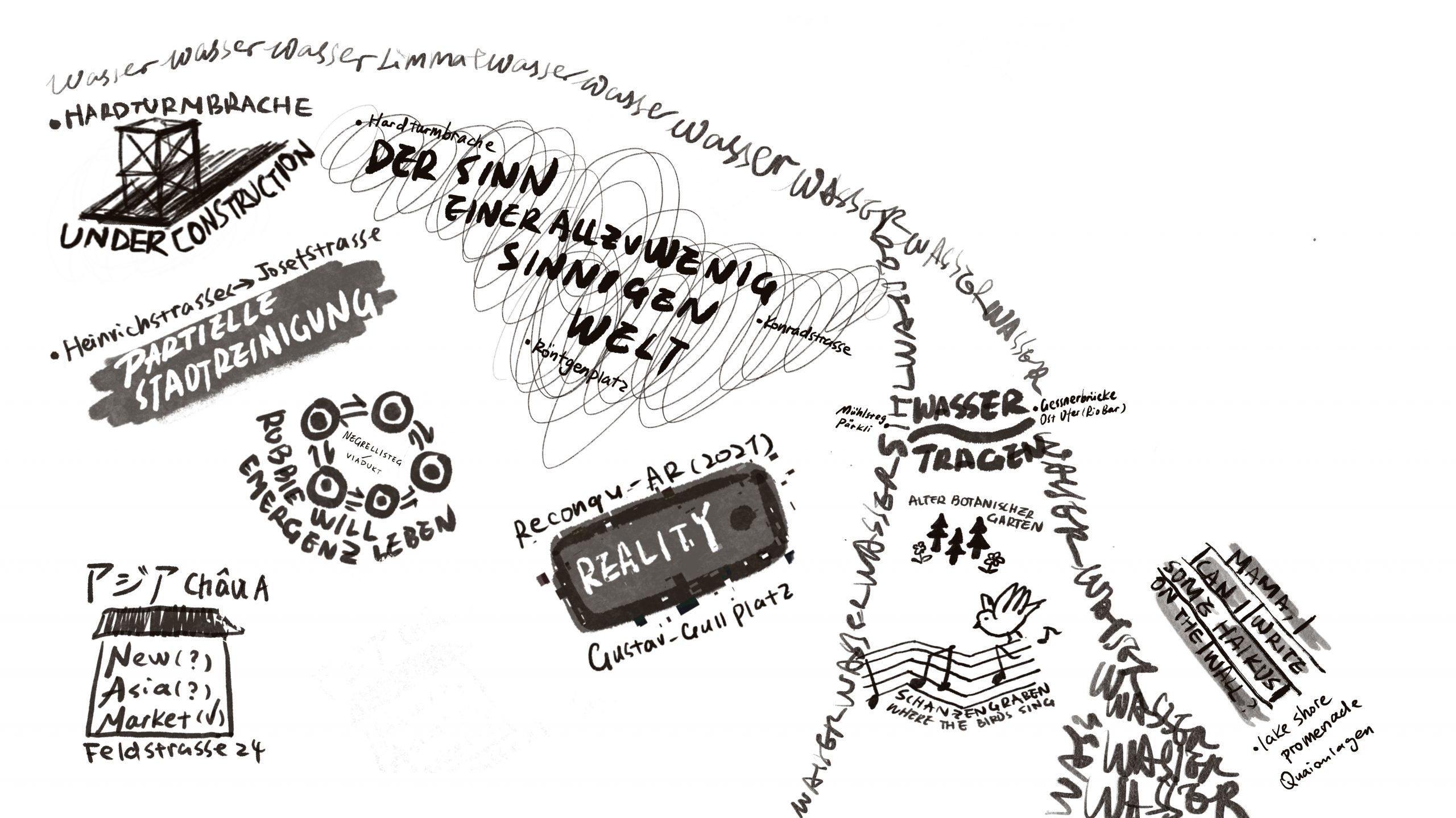 Bitte Smartphone, Kopfhörer und Internetzuguang mitbringen!
Wir laden ein zu einem Spaziergang durch Zürich mit 10 künstlerischen Arbeiten von 13 Studierenden. Sie untersuchen und entwerfen Orte im städtischen Raum als Schnittpunkte von Bewegungen, Präsenzen und Absenzen, menschlichem und nichtmenschlichem Leben, voll Kontinuitäten und Brüchen, Übergängen und Verwicklungen.
Die Arbeiten sind im vierten Semester während der globalen Gesundheitskrise entstanden, als die Möglichkeiten von Bewegungen und Begegnungen unklarer waren als je zuvor. Der Spaziergang ermöglicht Erfahrungen mit unterschiedlichen Zeitlichkeiten; das Vorher, das Jetzt und das Zukünftige verschränkt und loopt sich durch das Orts- und Netzspezifische.

_

Please bring your smartphone, headphones and internet access!
We invite you to take a walk through Zurich with 10 artistic works by 13 students. They examine and conceive places in urban space as intersections of movements, presences and absences, human and non-human life, full of continuities and ruptures, transitions and entanglements. 
The works were created in the fourth semester during the global health crisis, when the possibilities of movements and encounters were more uncertain than ever before. The walk allows experiences of different temporalities; the before, the now and the future intertwine and loop through the site-specific and the net-specific.
–
mit / with:
Zhao Yue Fan / Ayana Curschellas / Vy Linh Nguyen
Vital Romero
Simon Frey
Matthias Gaudenz Riedo
Florian Briw / Ivan Minichiello
Duke Aslani
Daniel Düringer
Andrea Todisco
Amanda del Valle
Alison Antonioli
(Developed in the 4th Praxismodul BA Fine Arts, ZHdK with Franziska Koch, Jasmine Gregory, Felix Stalder)