1 October to 20 November, open daily 10 AM to 7 PM Opening: Friday, 30 September, 19:00
Exhibition co-curated by Tido von Oppeln, Alexandra Waldburg Wolfegg, Elena Agudio, Bessaam El Asmar
Totem and Taboo
Complexity and Relationships between Art and Design
Freiraum Quartier21 International, Museumsplatz 1-5, Wien
In the context of design as an applied art, Totem and Taboo views art as the hypothetical father figure or relative of design. The metaphor of family relationships and family similarity led the group of writers and curators behind the show to take a closer look at Sigmund Freud's Totem and Taboo. Written around 1910, in the same period that modern design was first coming into being, this seminal work portrays totem as an object representing an absent relative and taboo as the fear of incest, of excessive closeness. Even though Freud's study neither has to do with art nor design, the exhibition takes it as a model for the relationship of the two fields.
Participating artists/designers: Øystein Aasan, Stephane Barbier Bouvet, Paolo Chiasera, Jan De Cock, Martino Gamper, Jeppe Hein, Lisa Lapinski, Rodney LaTourelle, Kai Linke, Kueng Caputo, Studio Makkink & Bey, Michaela Meise, Manfred Pernice, Gianni Pettena, Bertjan Pot, Stefan Sagmeister, Andrea Sala, Joe Scanlan, Clemence Seilles, Judith Seng, Jerszy Seymour, Florian Slotawa, Albert Weis, Johannes Wohnseifer, Heimo Zobernig, et al.
www.totemandtaboo.net www.quartier21.at
1 September 2011, 7 PM
Book launch and discussion with  Meret Ernst (editor at hochparterre) at Motto Books, Kochstrasse 1, CH-8004 Zürich
13 September 2011, 8:30 PM
Book launch and discussion at pro qm, Almstadtstraße 48-50, 
D-10119 Berlin
It`s Not a Garden Table
Design and Art in the Expanded Field
Anthology edited by Jörg Huber, Burkhard Meltzer, Heike Munder, Tido von Oppeln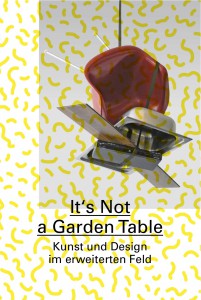 Artists, designers and theorists are discussing the consequences of design as a self-referential practice, the aesthetics of lifeworld in the art context, and many other topics with a special focus on furniture. The publication proposes three approaches towards the expanded definition of design today and its relation to the art context:
"Distinction": with texts by Sven Lütticken, Klaus Spechtenhauser, Tido von Oppeln, Mateo Kries, Burkhard Meltzer "Participation": with texts by Alexander García Düttmann, Monika Kritzmöller, Jennifer Allen, Judith Welter and a talk with Martin Boyce, Frédéric Dedelley and Max Borka
"Production": Interviews with Jerszy Seymor, Julia Lohmann, Jurgen Bey, Martino Gamper, Front Design, Martin Boyce, David Renggli, Matthew Smith, Andrea Zittel, Florian Slotawa and Mamiko Otsubo
Published on the occasion of a research collaboration of the Institute of Critical Theory (Zurich University of the Arts) and the migros museum für gegenwartskunst, Zurich.
Distributed by JRP|Ringier, www.jrp-ringier.com
Editions: English ISBN 978-3-03764-211-5 / German ISBN 978-3-03764-237-5
Softcover, 165×220 mm, 270 Pages, Images 32 Color, CHF 48
30 June – 16 July 2011 Opening: 30 June, 7 PM
A Grammar of the Third Person
Clemence Seilles, Stephane Barbier Bouvet, Kueng/Caputo, Jochen Weber, Kai Linke, Xabier Salaberria, David Heitz
Exhibition Curated by Burkhard Meltzer and Tido von Oppeln
 Art space Corner-College, Zurich
A Grammar of the Third Person discusses demarcations and references between different value systems of material culture within the scope of an exhibition space. Thus the group show provides a view on recent relations between art and design with positions from both disciplines. Common roots of shopping displays, fairs and art presentations are explored as well as the interfusion of private and public spaces. In photography, installation and performance, the participating artists and designers deal with influences of modernity and its industrial production, user interfaces of contemporary design or their relations to found materials and spaces. Generously supported by:
Pro-Helvetia, Schweizer Kulturstiftung
IFA – Institut für Auslandsbeziehungen
Friday, 13 May 2011, 4:10 PM
Two Case Studies on Landscape, Interiors and Abstraction in Contemporary Art
Conference presentation by Burkhard Meltzer
Lawley Lecture Theatre, Kingston Hill Campus, London, UK
Furniture objects often appear as intermediary between interior space and ideas of an exterior landscape in contemporary art installations. Two case studies show, how elements of furniture serve as a model for urban architecture or the landscape at large. In the works of Martin Boyce and Mamiko Otsubo, landscape-related structures do not necessarily represent a particular interest of contemporary artists in the representation of nature, but rather the idea of urban spaces or landscapes translated into an abstract pattern.
Two linked conferences – FLOW 1 and FLOW 2 – will address issues of the relationships between interiors and landscape. FLOW 1 will take a historical perspective covering the period from the late nineteenth century to the present day. It will be hosted by the Modern Interiors Research Centre (MIRC) in collaboration with the Landscape Interface Studio, Kingston University, in London on the 12th and 13th May 2011.
Thursday 12 and Friday 13 May 2011
See Kingston University website for further details.