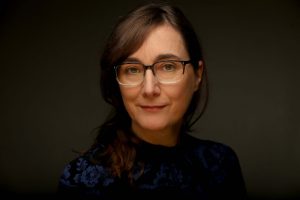 Christine Lang works as a writer, film director and dramaturg in theory and practice, in the context of theater and film.
She publishes on film dramaturgy and aesthetics: in 2013 her books were published: Breaking Down BREAKING BAD. Ästhetik und Dramaturgie einer Fernsehserie (with Christoph Dreher) by Fink Verlag; Come and play with us. Dramaturgy and Aesthetics in Postmodern Cinema (edited with Kerstin Stutterheim) by Schüren Verlag. In 2022, she is scheduled to publish her dissertation: The Aesthetic Seeing, Implicit Dramaturgy in David Lynch's MULHOLLAND DRIVE.
Since 2014 theatrical work as author and dramaturg with Volker Lösch; currently: AufRuhr (with Ulf Schmidt and Volker Lösch; Schauspiel Essen 2021). 2019: House Of Horror. Theater. Women. Power. Schauspielhaus Bonn 2018: Der Prinz und der Bettelknabe – und das Kapital, Schauspiel Essen, et al. In the theater productions she directs the film parts.
Her films have screened internationally at film festivals (various awards: First Steps Award nomination 2006, Prädikat Wertvoll 2006, among others). Her feature film KALTE PROBE, co-directed with Constanze Ruhm, premiered at the Berlinale 2013. Her short film AS IF WE WERE SOMEBODY ELSE premiered at the International Hof Film Festival in 2015. In 2021, the feature film script ERBEN, written with Dirk Lütter, was selected for production by WDR.
Christine Lang has taught at the Filmuniversität Babelsberg Konrad Wolf since 2009 and the Hochschule für Musik und Theater Mendelssohn Bartholdy in Leipzig since 2017.
Film-/Videography (Selection):
2021 AufRuhr (mit Volker Lösch)
2019 House of Horror (mit Volker Lösch)
2015 As if we were somebody else
2013 Kalte Probe (mit Constanze Ruhm)
2009 Quio: Rising Tide
2006 Quio: So Dazed
2006 Gloria
Publications (selection)
DAS ÄSTHETISCHE SEHEN – Implizite Dramaturgie in David Lynchs Mulholland Drive (Dissertation an der Filmuniversität Babelsberg, 2021)

Breaking Down Breaking Bad. Ästhetik und Dramaturgie einer Fernserie; mit Christoph Dreher, Fink Verlag, 2013

Come and play with us. Dramaturgie und Ästhetik im Postmodernen Kino; Hg. mit Kerstin Stutterheim, Schüren Verlag, 2013