We are very happy to proudly announce the final symposium of
"DisAbility on Stage"!!!
12. & 13. April 2019
Zurich University of the Arts
************************************************************************************V

Registration:
Please use this e-mail address to register: conference.ipf@zhdk.ch
The deadline for registration is 7. March 2019.
Program:
[EN] The symposium discusses the impact of disabled dance and theatre makers in Swiss theatre and dance, focusing on working practices, performer training, and audience responses.
[DE] Das Symposium beleuchtet den Beitrag Theater- und Tanzschaffender mit Behinderung in der Schweizer Theaterlandschaft mit dem Fokus auf die Arbeitsweisen, die Ausbildung sowie die Rezeption der inklusiven Theaterformen durch das Publikum.
[IT] Il simposio affronta l'impatto di danzatori e performer con disabilità nel contesto della danza e del teatro svizzeri, focalizzandosi sulle differenti pratiche di lavoro, sul training dei performer e sulla ricezione del pubblico.
For more information, just click on the image: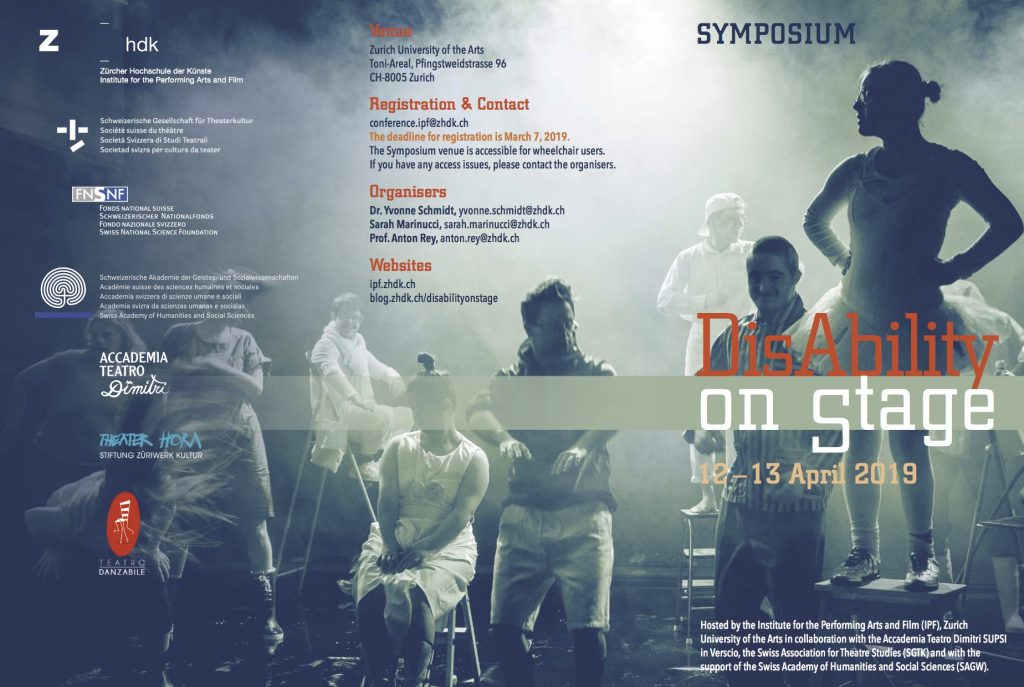 Regie Workshop von Gianni Blumer, Theater HORA

Regie Workshop von Gianni Blumer, Theater HORA

v.l.n.r. Yvonne Schmidt, IPF, ZHdK; Remo Beuggert, Theater HORA; Nele Jahnke, Theater HORA; Gianni Blumer, Theater HORA; Sarah Marinucci, IPF, ZHdK/ Institut für Theaterwissenschaft, Universität Bern

Remo Beuggert, Theater HORA

Teilnehmende des Symposiums

Teilnehmende des Symposiums

Carrie Sandahl, University of Illinois at Chicago, USA

Premiere der Tanzperformance «Unforeseen Abilities», Bachelor Contemporary Dance, ZHdK in Kooperation mit Teatro Danzabile in der Kaskadenhalle

Premiere der Tanzperformance «Unforeseen Abilities», Bachelor Contemporary Dance, ZHdK in Kooperation mit Teatro Danzabile in der Kaskadenhalle

Premiere der Tanzperformance «Unforeseen Abilities», Bachelor Contemporary Dance, ZHdK in Kooperation mit Teatro Danzabile in der Kaskadenhalle

Premiere der Tanzperformance «Unforeseen Abilities», Bachelor Contemporary Dance, ZHdK in Kooperation mit Teatro Danzabile in der Kaskadenhalle

Sarah Marinucci, IPF, ZHdK und Projektkoordinatorin von «Unforeseen Abilities» &Emanuel Rosenberg, künstlerischer Leiter von «Unforeseen Abilities» und Teatro Danzabile

Regie-Workshop von Gianni Blumer, Theater HORA

Regie-Workshop von Gianni Blumer, Theater HORA

Regie Workshop von Gianni Blumer, Theater HORA

Yvonne Schmidt, IPF, ZHdK & Remo Beugert, Theater HORA

Sarah Marinucci, IPF, ZHdK/ Institut für Theaterwissenschaft, Universität Bern

Nele Jahnke, Theater HORA

Premiere der Tanzperformance «Unforseen Abilities» Bachelor Contemporary Dance ZHdK in Kooperation mit Teatro Danzabile in der Kaskadenhalle

Sara Bocchini & Demis Quadri, Accademia Teatro Dimitri, Verscio, SUPSI

Teilnehmende des Symposiums

Sara Bocchini, Accademia Teatro Dimitri, Verscio, SUPSI

v.l.n.r. Yvonne Schmidt, IPF, ZHdK; Remo Beuggert, Theater HORA; Nele Jahnke, Theater HORA; Gianni Blumer, Theater HORA; Sarah Marinucci, IPF, ZHdK/ Institut für Theaterwissenschaft, Universität Bern

Gianni Blumer, Theater HORA

Premiere der Tanzperformance «Unforseen Abilities» Bachelor Contemporary Dance ZHdK in Kooperation mit Teatro Danzabile in der Kaskadenhalle

Premiere der Tanzperformance «Unforseen Abilities» Bachelor Contemporary Dance ZHdK in Kooperation mit Teatro Danzabile in der Kaskadenhalle

Premiere der Tanzperformance «Unforseen Abilities» Bachelor Contemporary Dance ZHdK in Kooperation mit Teatro Danzabile in der Kaskadenhalle

Premiere der Tanzperformance «Unforseen Abilities» Bachelor Contemporary Dance ZHdK in Kooperation mit Teatro Danzabile in der Kaskadenhalle

Premiere der Tanzperformance «Unforseen Abilities» Bachelor Contemporary Dance ZHdK in Kooperation mit Teatro Danzabile in der Kaskadenhalle

Yvonne Schmidt, Leiterin «DisAbility on Stage» IPF ZHdK und Co-Präsidentin der Schweizerischen Gesellschaft für Theaterkultur SGTK

Paola Gilardi, Co-Präsidentin der Schweizerischen Gesellschaft für Theaterkultur SGTK
Fotos: Symposium DisAbility on Stage