List of Films
Was ist Film? Georg Radanowicz, CH 1960, ca. 5 Min.
Mottensack, Georg Radanowicz und Klaus Zaugg, CH 1967, 27 Min.
Pic-Nic, Georg Radanowicz und Kurt Kuhn, CH 1967, 8 Min.
Glump, Georg Radanowicz, CH 1967, 8 Min.
13 Berner Museen, Georg Radanowicz, CH 1968, 13 Min.
22 Fragen an Max Bill, Georg Radanowicz, CH 1969, 27 Min.
Alfred R. Ein Leben und ein Film, Georg Radanowicz, CH 1972, 80 Min.
Fluchtgefahr, Georg Radanowicz, CH 1976, 105 Min.
Wollust oder Gutknecht Tonis Traum (5. Todsünde), Georg Radanowicz, CH 1981, 58 Min.
Edvige Scimitt. Ein Leben zwischen Liebe und Wahnsinn, Georg Radanowicz, CH 1985, 89 Min.
Motten im Licht, Georg Radanowicz, CH 1987.
Der Atem, Georg Radanowicz, CH 1989, 120 Min.
Bio
*1939, Aarau
Nach der Matura 1958 besuchte Georg Radanowicz bis 1960 die Fotoklasse der Kunstgewerbeschule Zürich und realisiert 1960 seinen ersten Film Was ist Film?, der in der Ausstellung "Film" gezeigt wurde. Von 1961 bis 1966 studierte er Architektur an der ETH Zürich. Danach arbeitete er bis 1967 beim Fotostudio von Klaus Zaugg in Meiland. Ab 1970 drehte Radanowicz Auftragsfilme, unter anderem Grenzwächter ein Beruf, 1970? Im folgenden Jahr war er Gründungsmitglied der Nemo Film AG und wurde Präsident des Schweizerischen Filmgestalterverbandes. 1972 drehte Radanowicz mit Hilfe des Schweizer Fernsehens innerhalb der "Aktion Jungfilmer" seinen ersten Spielfilm Alfred R. Im Rahmen der von Nemo und dem Schweizer Fernsehen coproduzierten Spielfilmreihe "Die sieben Todsünden" betätigte er sich neben der Regie auch als Produzent. Seit den achtziger Jahren dreht Radanowicz nur noch sporadisch Filme und engagiert sich in der Filmpolitik.
Articles about (and from) the Author and his Work
Georg Radanowicz, "Ein Spaziergang für Max Gubler", Tagesanzeiger, 11. Oktober 1972, S. 21.
Fotos Radanowicz (CSZ)  Foto_Georg_Radanowicz
Radanowicz-von-Gunten-Foto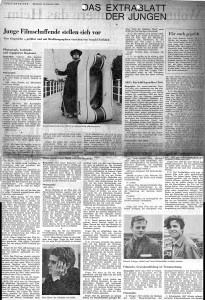 "Film – Hohlspiegel unserer Umwelt? Podiumsgespräch des Werkbandes", Ju, NZZ, 28. März 1969 Werkbund_NZZ

Screenings (Places and Dates)
Swiss Film Season, London, 1973
exprmntl 4, Knokke, 1967/68
Filmprogramm Forum Stadtpark, Graz, 1974
Holdings of Films in Collections
.
Miscellaneous
Brief von Serge Stauffer an Georg Radanowicz 19.2.76, abgedruckt im Katalog: Michael Hiltbrunner (Hg.) Serge Stauffer, Kunst als Forschung, Helmhaus der Stadt Zürich, 2013.
S. 177/78: "Deine Kurzfilme habe ich unheimlich genossen, weil sie eben keine Warhol-Filme sind, keine Schönherr-Filme, sondern 70er Jahre Atmosphäre haben. Ich weiss natürlich nicht, ob dir das nur gelingt, wenn du ferngehst, dich der Schweiz entfremdest – also im exotischen Bereich. Sicher ist es schwieriger, das auf den Alltag zu übertragen, aber hast du nicht Zeit, um dich intensiv diesem Versuch zu widmen? Ich möchte wirklich 1000 solche kurzen Filme aneinandergereiht sehen, von dir, weil du mir etwas übermitteln kannst damit. Und es ist besser als Fotografie, die gern im ästhetischen erstarrt. Gemessen an dem, was ich als "Kunst" bezeichne, sehe ich wenig Forschung in Film und in der Fotografie – viel Klischees, Anpassung, Form und solche Scheisse."