Underground Explosion
15. April 1969 im Circus Krone in München; 18. & 25. April 1969 im Volkshaus Zürich (Platte 27 im Volkshaus), 3. Mai Essen; 6. Mai Köln; 8. Mai Stuttgart (die Aufführung vom 25. April in Zürich und die Aufführung in Stuttgart fanden nicht statt).

Underground Music, Underground Film und Lightshow, Action, Happening
Number of Editions: 6
Curators: Karlheinz Hein, München, Dieter Meier, Zürich. Undependent Filmcenter
Filmmakers, Artists (laut Programmblatt): Guru Guru Groove, Amon Düül, Paul und Limpe Fuchs, Peter Weibel, VALIE EXPORT, John Lennon, Joko Ono, Pjotr Kraska Truppe, The Kinetic Lights
[John Lennon und Yoko Ono sind auf dem Programmblatt aufgeführt, waren aber nicht anwesend. In der zeitgenössischen Presse ist zu lesen, dass Lennon/Ono nach Montreux eingeladen waren und dort auch tatsächlich anreisten.]
Films, Works
Kurt Kren: 23/69 Underground Explosion (AT 1969, 5 Minutes)
Catalogues and Leaflets
Programmankündigung der Veranstaltung durch die Platte 27 (Vorder- und Rückseite):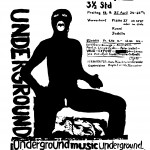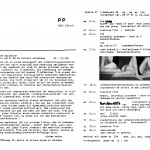 (Archiv Matthias Knauer)

Press
Spiegel-Artikel vom 21.4.1969: Exhibitionisten an die Front. (offline-text-version: 690421_Spiegel_UndergroundExplosion)
WoZ-Artikel vom 23.4.2009: Underground Explosion: Der Krieg findet im Saal statt. (offline-text-version: 090429_WoZ_UndergroundExplosion)
Blick-Artikel vom 11.4.1969: Blick690411_UndergroundExplosion
Blick-Artikel vom 17.4.1969: Blick690417_UndergroundExplosion
Kurzbericht im Tagesanzeiger vom 21.4.1969, Seite "Stadt Zürich": TA_690421_UndergroundExplosion
Bericht der ersten Veranstaltung in Zürich im "Extrablatt der Jungen" (Tages-Anzeiger) vom 23.4.1969, S. 51: TAderJungen_690423_UndergroundExplosion
Bericht von Mathias Knauer über die erste Veranstaltung in Zürich im "Volksrecht" vom 24.4.1969: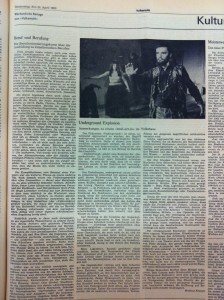 Artikel aus dem Züri-Leu (Tag nicht bekannt, 21-24. April 1969, Kopie aus dem Archiv von Mathias Knauer):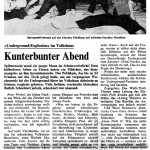 Zwei Artikel von der Aufführung in München aus der Sueddeutschen Zeitung und dem Merkur vom 17.4.1969 (Kopien aus dem Archiv von Mathias Knauer):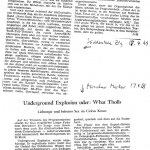 Berichte über die Veranstaltungen in Essen und Köln: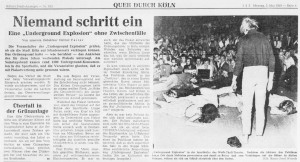 Kölner Stadtanzeiger_Nr.103_05.05.1969_Seite 06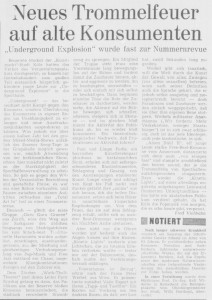 Kölner Stadtanzeiger_Nr.103_05.05.1969_Seite 12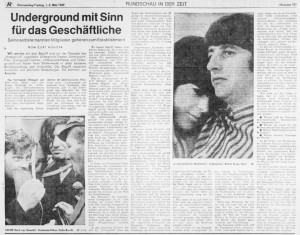 Kölnische Rundschau_Nr.101_Jg.24_1.05.1969_Seite 28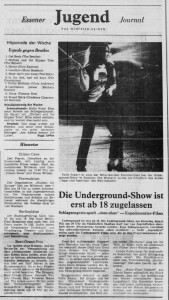 Neue Ruhr Zeitung_Nr.102_Jg.24_03.05.1969_Seite 16


Neue Ruhr Zeitung_Nr.106_Jg.24_08.05.1969_Seite 10
Article on the Event in Zurich in a Publication on the Volkshaus Zürich: Kälin, Urs; Keller, Stefan; Wyler, Rebekka (Eds.): Hundert Jahre Volkshaus Zürich. Bewergung, Ort, Geschichchte. Baden 2010. Hier+Jetzt-Verlag. S. 84-85. (Reprint of the WoZ-Artikel of April 23, 2009)
Transcript of exerpts from the telephone interview with Mani Neumeier (15.8.2011): 110815_InterviewNeumeier_Teil-Transkription
Transcript of an interview with Dieter Meier on June 29, 2011: Dieter_Meier.doc
Article in CINEMA 57, Begrenzungen, 2012: Truniger, Fred: Underground Expanded – Quellen zum Expanded Cinema der 1960er-Jahre in der Deutschschweiz.
Circulation of the event: München, Zürich, Essen, Stuttgart, Köln
Varia:
Zwei Bilder aus der Underground Explosion im Volkshaus Zürich im E-pics der ETH Zürich (Com_L18-0252-0100-0036 und Com_L18-0252-0100-0036A)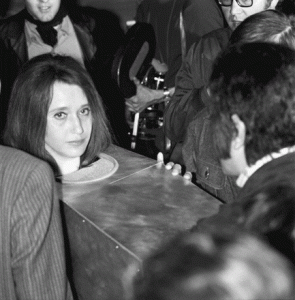 VALIE EXPORT «Tapp und Tastkino» an der Underground Explosion in Zürich (Foto © Niklaus Stauss, Zürich)
Fred Truniger and Thomas Schärer interviewed Hein: 120523_Hein_Karlheinz_PAP__