Progressive Art Productions, PAP, P.A.P.
From 1969 to today

Progressive Art Production war/ist ein Veranstalter von Experimentalfilmprogrammen und -events, die im Frühjahr 1969 von Karlheinz Hein und Dieter Meier gegründet wurde. Die PAP kuratierten Filmprogramme an verschiedenen Filmfestivals, organisierten Intermedia-Events und beteiligten sich an Kunstmessen, wo sie Filme verkauften.
Place
München und Zürich

Curators
Filmmakers, Artists
Films, Works
Catalogues and Leaflets
Plakat der Underground Explosion in Zürich vom April 1969, noch als Undependent Film Center organisiert.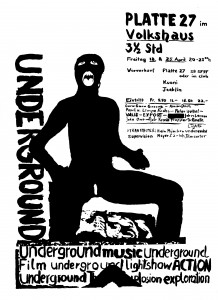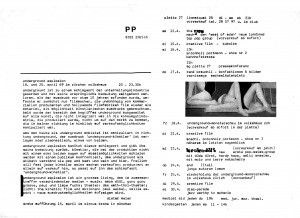 Programm des PAP-Programms am 23. Festival in Avignon, 1969. PAP_Avignon_1969 (Im Archiv des Nachlasses von Heimo Bachstein, Universitätsbibliothek der Bauhaus-Universität Weimar. Siehe auch: https://bachsteinweimar.wordpress.com/).
Programme der PAP am Film-In (Festival) Luzern, 1969-1971:
Film-In_Luzern_PAP_Programm_1969
Film-In_Luzern_Programm_1970
Film-In_Luzern_1971_Progressiver_Film
PAP_Mannheim_1971
Press
Other
Interview mit Karlheinz Hein über die Aktivitäten der P.A.P. von Fred Truniger und Thomas Schärer am 23 Mai, 2012.
Bovier, François: P.A.P. [Progressive Art Production], une «galerie filmique» pour un cinéma «politique et pornographique». In: Bovier, François; Lovay, Balthazar; et. al.: Film Implosion! Experimental Cinema in Switzerland. Berlin 2017.