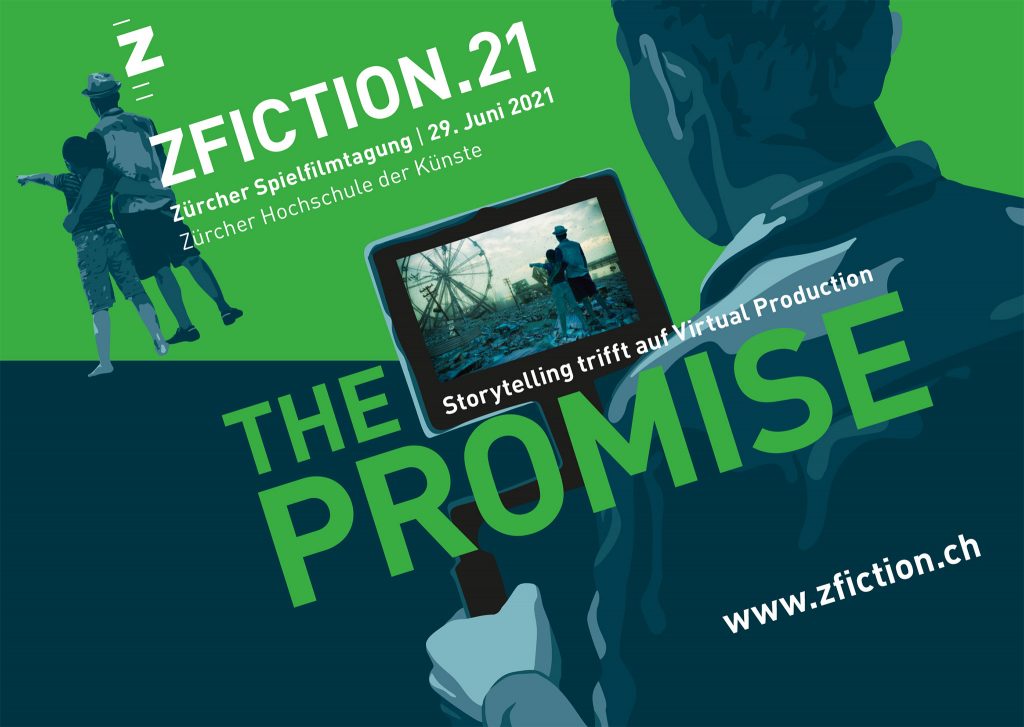 ZFICTION takes place on Tuesday, June 29, 2021 at the Toni-Areal of the Zurich University of the Arts (ZHdK), in the same week as the documentary film conference ZDOK.21 (June 30/July 1, 2021).
The first edition of the ZFICTION feature film conference puts the multifaceted promises of technological development up for discussion. International filmmakers and scholars will explore how virtual production will change the near future of fictional storytelling in film and what new challenges it will bring.
After an introduction by Michael Schaerer and Christian Iseli, Miriam Loertscher and Norbert Kottmann, Danish filmmakers Simon Jon Andreasen and Rasmus Kloster Bro, Mirko Lempert (assistant professor at Stockholms Konstnärliga Högskola) and German director Andreas Dahn will give insights into their working methods and experiences.
Media scholars and film researchers, Sarah Atkinson (professor at Kings College in London), Sylke René Meyer (professor at CalState University in Los Angeles) and Volker Helzle (head of "Research and Development" at the Filmakademie Ludwigsburg) will complement the filmmakers' presentations and create counter-positions.
In an accompanying exhibition, conference visitors will have the opportunity to experience virtual production tools hands-on. Research assistants Norbert Kottmann and Valentin Huber, together with Mirko Lempert, will demonstrate CineDesk, an interactive tool for working collaboratively and in real time in virtual spaces. Real-time camera tracking and background replacement can be tried out in the Immersive Arts Space at ZHdK. Furthermore, director Andreas Dahn will give insight into his VR installation "Home in the Distance". The results of the SNSF research project "Virtually Real" and interim results of the research projects "Digital Humans" and "Neural Volumetric Capturing" will also be presented.
---