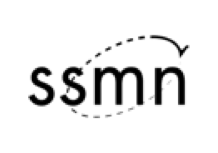 Introduction
This is an introduction to the SSMN – RENDERING – ENGINE it's primary function is to permit the user to experience the SSMN Spatialization notation symbols as indicated in various software by auditioning and viewing audio placement and trajectories in a 2D or 3D radar projection.
Audience Composers of instrumental music utilizing spatialized live-electronics
Goal In order to enrich the composer workflow, the spatial instructions will be rendered onto the audio system during playback.
What the SSMN-Rendering-Engine cannot do : Be a performing-tool. Have an exact control about the spatial instructions. Have special support for electroacoustic music.
! You need to have initially "JackPilot.app" and "qjackctl.app" !
Audio & Software Setup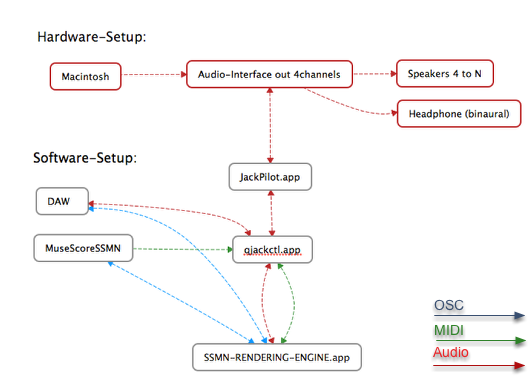 Software installation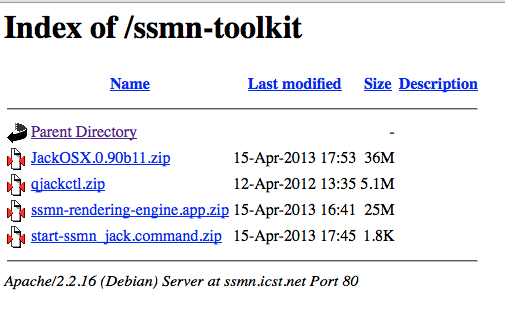 Software installation:
go to
http://ssmn.icst.net/ssmn-toolkit/
(1)
download the following Applications from SSMN-Site.
(2)
unzip and follow the installer instruction. JackOSX.app —> needs restart !
(3)
be sure that all Tools are in your /Applications Folder !
(4)
double click the "start-ssmn_jack.command"
Overview of the Interface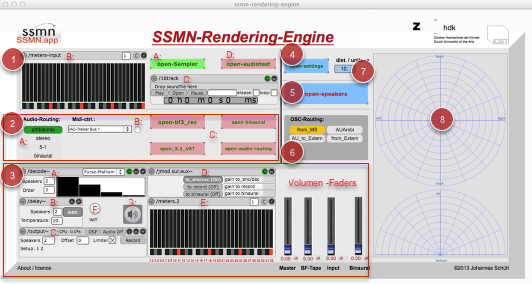 (1) Audio-Input section : A: "VST/AU Sampler" B: extern (Jack) inputs C: Sample-player (1 – 16ch) D: audiotest with noise (2) Audio-Routing section: A: choose the format (default "ambisonic") B: choose your midi-controller C: open bpatches (3) Audio-Rendering section: A: "ambisonics-decoder" B: "speaker delays" C: "output-module" D: "switch auxiliary" E: "output-meters" F: "Initialization" G: "Audio on/off" (4) open – "settings-bpatches" (5) open the "speaker-configuration" for the "ambisonic-decoder" (6) osc-(opensoundcotrol) router (7) set the unit-for the distance (8) Radar displays the trajectories
Audio Status setup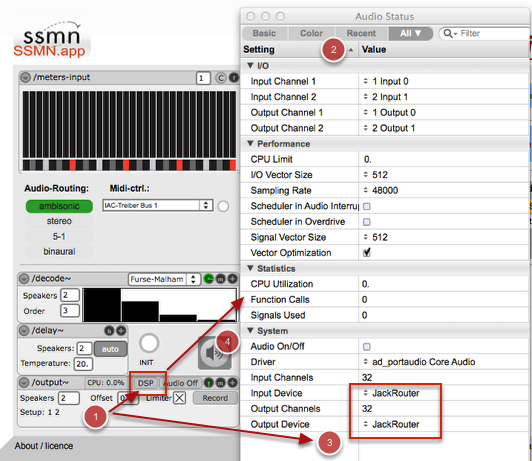 (1)
click –
"DSP"
it opens a new window —>
(2)
where possible, replicate the
identical configuration as in "Jack Pilot" !!
(3)
verify
that here "Jack Router" is selected! (after that you can close the "Audio-Status" window.)
(4)
click the button (speaker icon) for "Audio" activation
Configure the Speaker – setup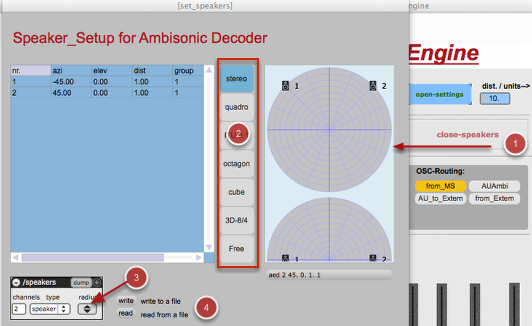 (1) click "open-speakers" : a new window pops up. (2) choose your "speaker-setup" e.g. "quadro" –> click "close-speakers" for closing the window (3) change Radius (4) write & read you on setup as a xml-file
Setup the Distance factor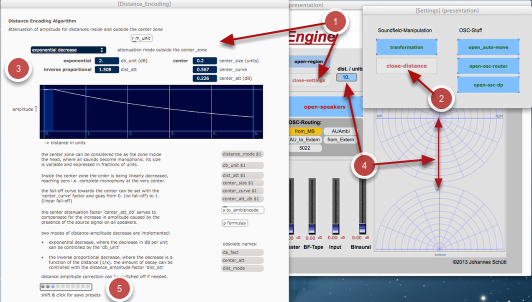 (1) press "open-settings" . (2) press "open-distance". (3) choose the "parameters". (4) set the "unit per distance" (default 10.) [in the graphic you can see only the first 5 unit-steps]. (5) save –> the "Distance-parameters". (shift&click)
SSMN-Instrument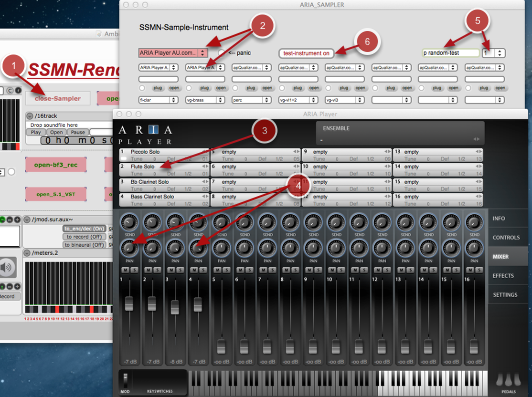 (1) click
"open-sampler"
—> this open's the "ssmn-instrument"
(2)
choose your "sampler-instrument" (default "ARIA-Player")
(3)
choose an instrument (ex. Flute Solo)
(4)
verify that ch-1 is left and ch-2 is right !
(5)
opens the "random-midiplayer" for testing. —> choose midi-channel (1-16)
(6)
play test on/off
Audio-test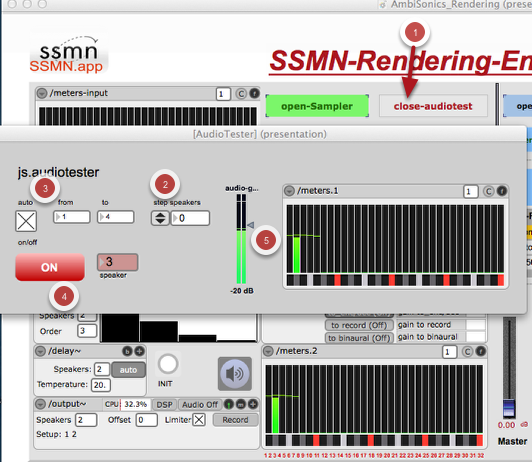 (1) open "audiotest" (2) step thru the audio-channels (3) auto-step from ch-0 to ch-n (4) audio on/off (5) volume
Tape-Player

The "Tape-player" plays "Bformat3" files.
Control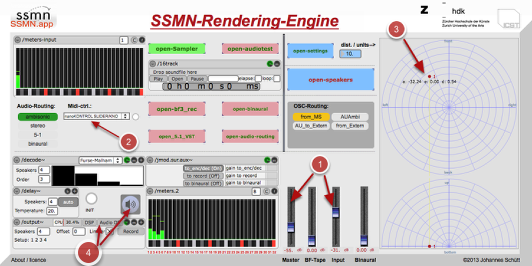 (1) open the "input-volume" and "master-volume". (2) choose your "midi-controller". (3) double-click in the "Radar" and set a "point" (nr.1 = Flute ch-1) –> move the "source-point" (4) click "speaker-button" to activate the audio-driver.
Midi-control (korg nano-control)

(1) initial –> midi-device SSMN ist ein OpenSource Projekt und hat in MuseScore Bei der "SSMN RENDERING ENGINE" handet es sich um eine in MAX 6.0⁠1 programmierte Standalone – Application. Diese Application erlaubt es den Komponisten und Interpreten die SSMN -Symbole und SSMN-Taxonomie, in Realtime zu kontrollieren und zu testen. Aus den Erfahrungen aus den Arbeiten in der Praxis , zusammen mit den "ICST-Artist in Residency", Komponisten, Chreographen und Interpreten, wurde dies Frage der Kontrolle und realtime Versuchen sehr schnell ein unabdingbarer Fakt. Aus den vorausgegangenen Forschungen in Ambisonics war der Schritt gegeben, innerhalb des "SNF-Projektes" diese "Rendering-Engine" zu programmieren. choose –> the midi-controller
DAW control

(1)
open "osc-dp"
(2)
this alows you to start and stop "MuseScoreSSMN" together with the DAW
"Ardour 3"
or ©2012 "Digital Performer 8" from
http://www.motu.com
(3) Not yet work
Automatique – movements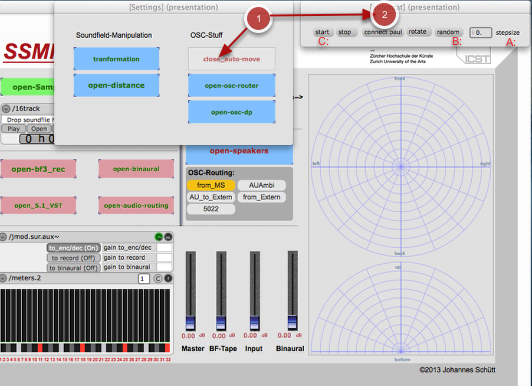 (1) open "open_auto-move" –> for testing the movements (2) set the A: "speed" in "stepsize" –> B: rotate or random" —> C: start / stop
Region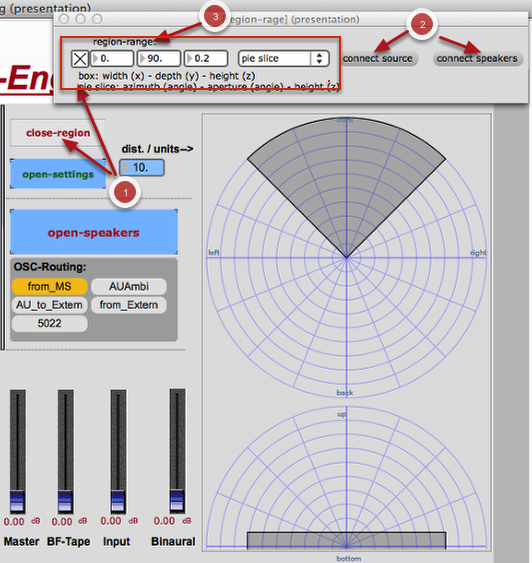 (1) open Region-range (2) connect to "source" or to "speakers" (3) choose the "region" – dimension
Transform the Ambisonics Soundfield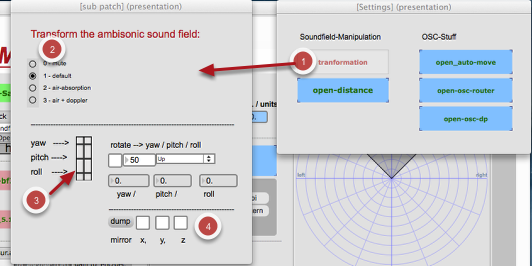 (1) open the "Transform"- Patch (2) choose air-absorption or doppler-effect ( this effects are allways for all sources at the same time !) (3) automation (4) Mirror – Effect
OSC-routing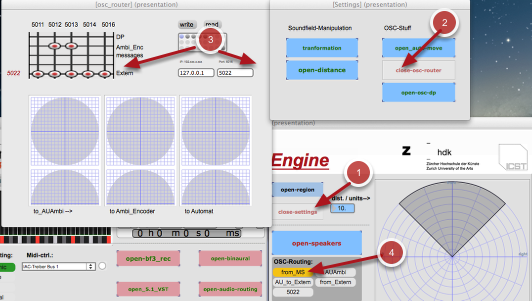 (1) open "settings" (2) open "osc-router" (3) save your one configuration. (4) default "presets" click for choose.
Audio – routing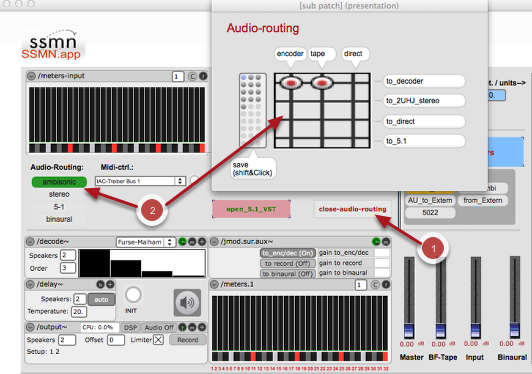 (1) open "audio-routing" (2) choose input <—> output
5.1 surround
5.1 surround
Please download and install from "Ambisonic Studio" . OBORO plug-ins "3b2sic.component" for playing in 5.1 surround is a special set of plug-ins that were developped for a workshop given by Florian Grond on the use of "simple algorithmic patterns in order to control musical parameters, such as rhythm, pitch, harmony and spatial positioning of sounds". The workshop took place at OBORO in December 2008 (PDF). © Daniel Courville, 2007-2012
work with au / vst-plugin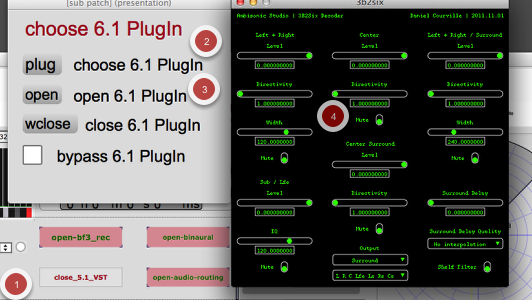 (1) open the "plugin-module" (2) choose "3b2six.component" (/Library/Audio/Plugins/components/) (3) open the PlugIn-GUI
Binaural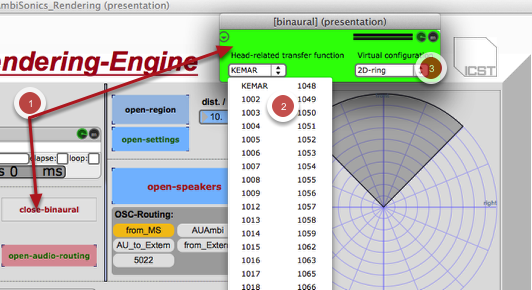 (1) open the "binaural-engine" (2) chosse a "htrf-cue" (3) Virtual-configuration 2D
Needs authorisation ! othervise click thru ….. 3 times spat.pan~ is ©2005-2012 by IRCAM