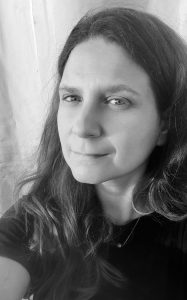 Giulia Giapponesi is a screenwriter, director and editor.
She got a degree in Communication Studies from the University of Bologna in 2010. During university years she started to work at first as video editor on television projects, commercials and video clips and then as director of corporate films for local companies.
She entered the world of cinema in the role of cultural activist in 2012 when she founded and chaired (2012 -2016) Kinodromo, an advocacy group that promotes Italian independent productions and manages the programming of a small art cinema in Bologna.
Since 2019 she is a full-time director of documentaries and fictional works.
Filmography (a selection):
2022  Bella Ciao (Bella Ciao – Per la libertà) – documentary
2019  Carracci – The Silent Revolution (Carracci, la rivoluzione silenziosa) – documentary
2018  The Load (Il Fagotto) – Short