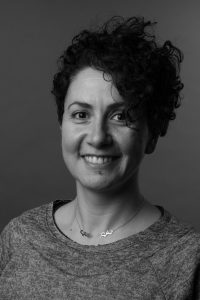 Dima Saber is a researcher and writer on media depictions of conflict and on the role of archival records in identity building processes, focusing primarily on the work of political activists in post-revolution and conflict countries such as Lebanon, Egypt, Syria, Yemen, and Palestine. She was, until late 2022, a Reader in Media & Cultural Studies and Associate Director for External Funding and Research Development at the Birmingham Centre for Media and Cultural Research (Birmingham City University). She is now the Director of the Check Global program at Meedan, providing software, media literacy training and networking opportunities to independent media organizations, journalism schools and human rights activists in over 25 countries across Asia Pacific, Latin America and the Caribbean, North Africa/Western Asia and Sub-Saharan Africa regions.
She contributed as lead researcher to the documentary film Our Memory Belongs to Us since its inception, focusing her work on the mapping and analysis of the crowd-sourced archives which formed the basis of the film. Her involvement resulted in a number of publications, including a book chapter in '(W)archives. Archival Imaginaries and Contemporary Wars' (2020) which brings perspectives from Syrian archivists and videographers on the sustainability of archives online, a chapter in 'Refugee Imaginaries' (2019) on the role of refugee archives in the making of a history of the Syrian revolution, and an article in Archives and Records (2017) on the value of crowd-sourced Syrian archives as memories of the Syrian war.
___
> Das Referat bei ZDOK.23 | Whose Stories Will Be Remembered?