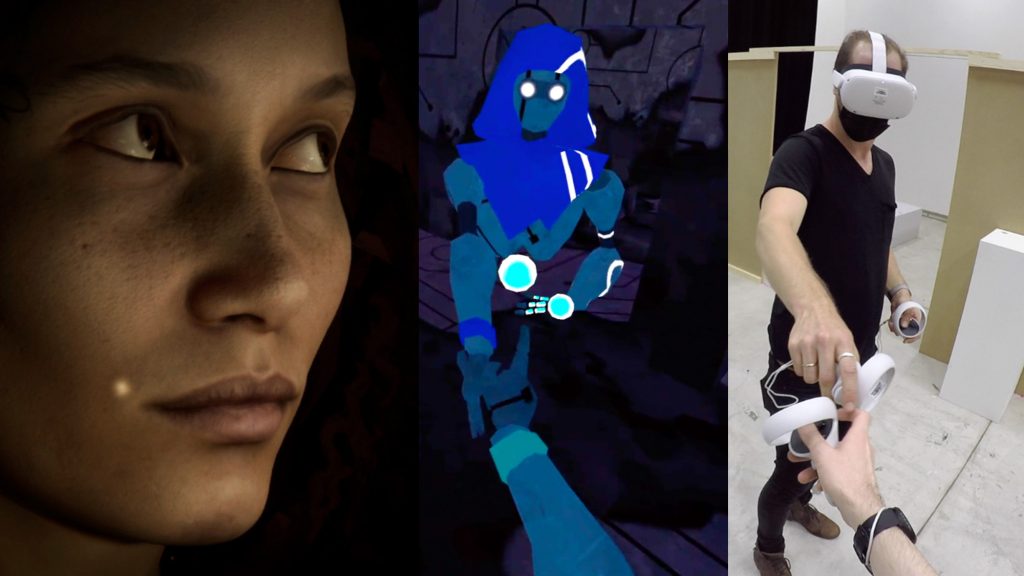 ZHdK Talent Talk, November 4th 2021, in the context of Swiss Digital Days
Stella Speziali is research associate in the Immersive Arts Space and will talk about her research project on the topic of digital humans.
Thanks to technological advancements the creation of virtual characters is more accessible than ever. New time-saving platforms have been created, thus democratising the access to high-fidelity, real-time, fully-rigged, diverse, portable, 3D human characters.
With My Digital Twin, I wish to understand better the creation and deployment of digital humans with different critical approaches. Furthermore, I am ethically questioning their applications in entertainment, marketing, art, and beyond.
Chris Elvis Leisi, research associate in the Immersive Arts Space and a graduate of the ZHdK Game Design program, talks about his graduation project Virtual Real World.
In today's VR games, the body often serves as the controller. However, when the player enters the virtual world, the connection to the physical environment is often lost. This master's thesis deals with immersion mechanics in Virtual Reality and reveals the potentials that arise when one's own home can be integrated into the virtual world as a play area.
17:15-18:30h, Kino Toni, ZHdK, Pfingstweidstrasse 96, 8005 Zurich
Speaker: Stella Speziali (en), Chris Elvis Leisi (de)
Host: Christian Iseli
> Please, reserve a ticket here.
---