The Immersive Arts Space hosts every semester a public lecture series with national and international guest lecturers. The lecture series aims to address artistic as well as theoretical aspects of immersion.
The current lectures are available via live stream. Tune in [live stream]
---
Autumn Semester 2023
Immersive Arts: Interdisciplinary Perspectives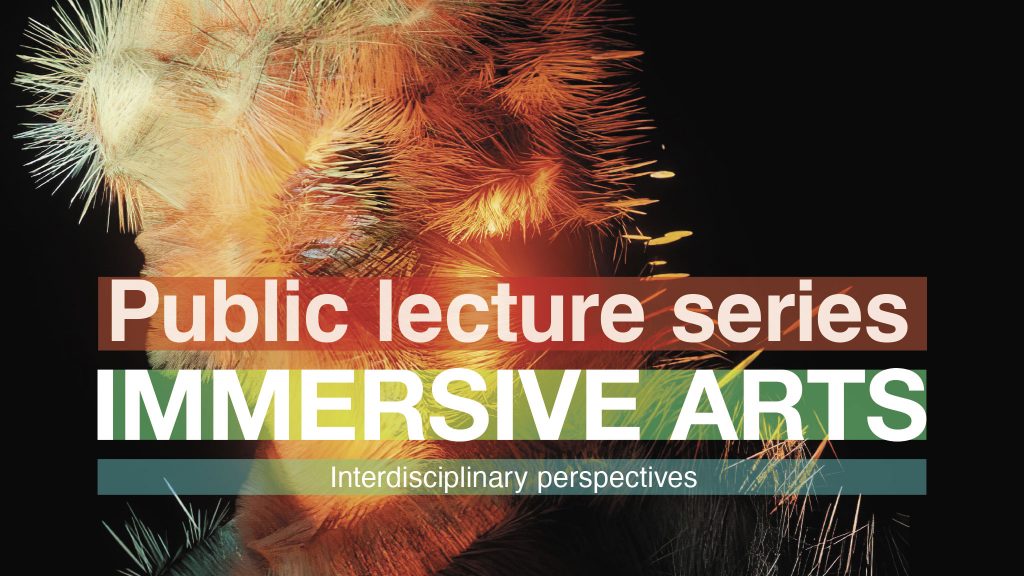 This lecture series investigates questions of immersion from perspectives outside of the immersive arts. Guest lecturers come from curating, computer music and DIYelectronics, embodied human-computer interaction, animation and theater and scenography. Topics will include composing interactive systems, new concepts of extended animation, curating immersive experiences, disability and human computer interaction and new concepts of XR-based performative scenography in urban contexts.
More infos [here]
---
Spring Semester 2023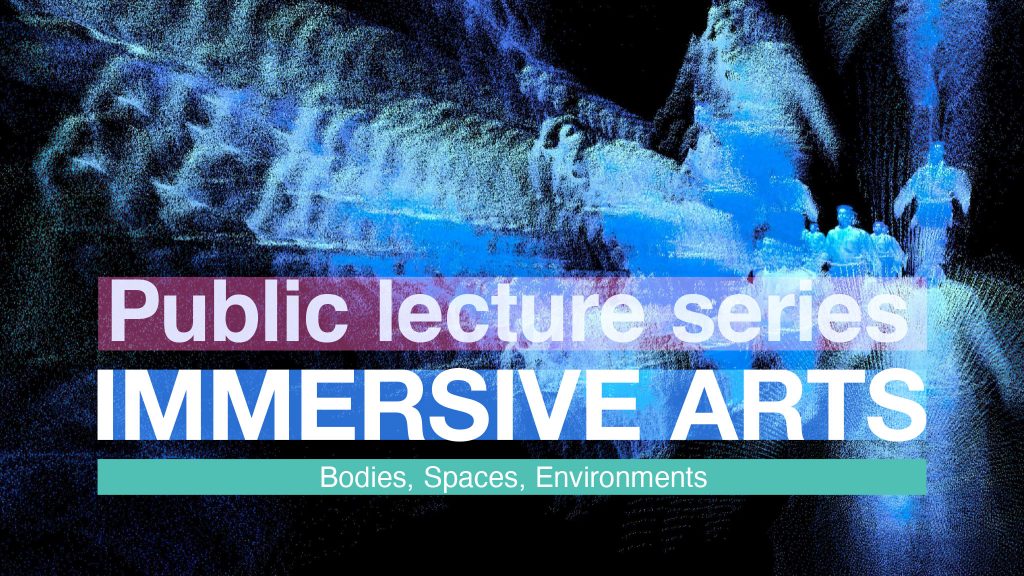 The Immersive Arts Lecture Series for spring semester 2023 investigates artistic and design experiences in which humans, media and architectural spaces shape one another within the context of the built environment. Guest lecturers who come from the fields of digital arts, architecture, theater studies and the visual arts, will focus on specific artistic works from their practice, as way to open up critical discussion around emerging paradigms of bodily experience in spatial computing environments, human-machine interactions in architectural spaces, and immersive experiences between human, technical and natural systems.
Rasa Smite | March 7th, 2023 | 17:15-18:30
ON ATMOSPHERIC FOREST
Christopher Salter | March 21st, 2023 | 17:15-18:30
ON ANIMATE
Daniela Mitterberger | April 4th, 2023 | 17:15-18:30
ON DEGREES OF LIFE
Selena Savic | April 18th, 2023 | 17:15-18:30
A DATA-DRIVEN DRAMA
Kurt Hentschläger | May, 2nd, 2023 | 17:15-18:30
THE AMBIVALENT PRACTICE OF IMMERSIVE INSTALLATIONS AND PERFORMANCES
---
Autumn Semester 2022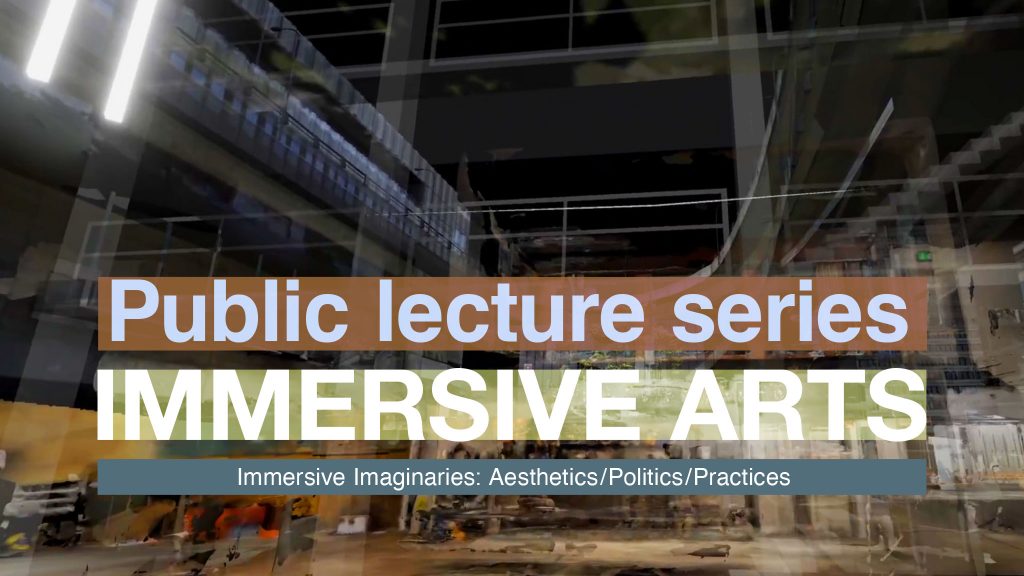 This lecture series investigates the concept of immersion in art and design from aesthetic, historical and political perspectives. Guest lecturers come from digital arts, curating, media studies, and the histories of science and technology from the ZHdK, Royal Academy of Fine Arts Antwerp, Rensselaer Polytechnic Institute (New York), Haus der Elektronischen Künste (HEK, Basel) and the Technical University in Dresden. Topics will include contemporary artistic practices in multi-sensory immersion, extended reality and history of VR and the arts, and art and artificial intelligence.
Christopher Salter | September 27th, 2022 | 17:15-18:30
THE ARTS OF IMMERSION: SENSING, BODIES AND RESPONSIVE ENVIRONMENTS
Kristof Timmerman | October 11th, 2022 | 17:15-18:30
BREAKING THE FIFTH WALL: IMMERSION BETWEEN LIVE PERFORMANCE AND VIRTUAL SPACES
Sabine Himmelsbach | October 25th, 2022 | 17:15-18:30
VIRTUAL WORLDS-INTERACTIVE ENVIRONMENTS: ART AS AN IMMERSIVE EXPERIENCE
Michael Century | November 8th, 2022 | 17:15-18:30
CONTESTING A "NEW MEDIUM": VIRTUAL REALITY AS CULTURAL PROBE
Orit Halpern | November 22nd, 2022 | 17:15-18:30
THE SMARTNESS MANDATE: AI AND UBIQUITOUS COMPUTING`S IMPACT ON ART AND DESIGN
---
Spring Semester 2022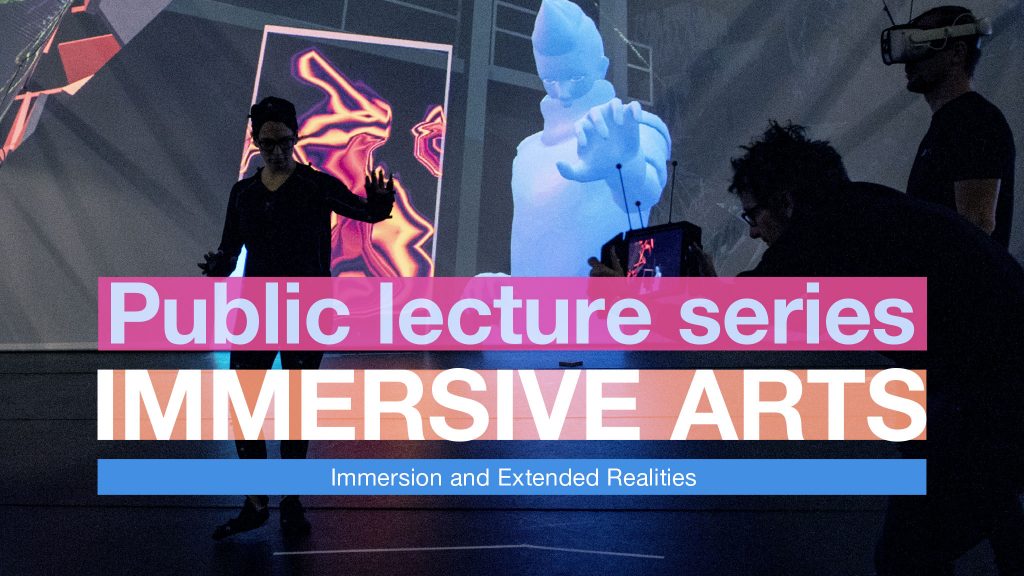 In this series, guest lecturers from the Swiss Institute of Technology ETHZ, the Lucerne University of Applied Sciences HSLU, the University of Zurich UZH shared their specific views along with lecturers from the ZHdK. The topics covered Architecture, Virtual Reality, Virtual Forensics, Game Aspects in Theatre and Extended Reality.
Matthias Vollmer | Recording from March 8th, 2022
IMMERSE IN THE CLOUD – VISUALIZING WITH POINT CLOUDS
Christina Zimmermann | Recording from March 22nd, 2022
CHALLENGING THE INDIVIDUAL – PERCEPTUAL CON/FUSIONS IN VIRTUAL REALITY

Lars Ebert | Recording from April 5th, 2022
FORENSICS ON THE HOLODECK
Réjane Dreifuss | Recording from April 19th, 2022
LUDIFICATION IN THEATRE: THE EXAMPLE OF "GAME-THEATRES"
Christian Iseli | Recording from May 3rd, 2022
SHIFTING REALITIES, OR: WHAT ARE IMMERSIVE ARTS ANYWAY?
---
Autumn Semester 2021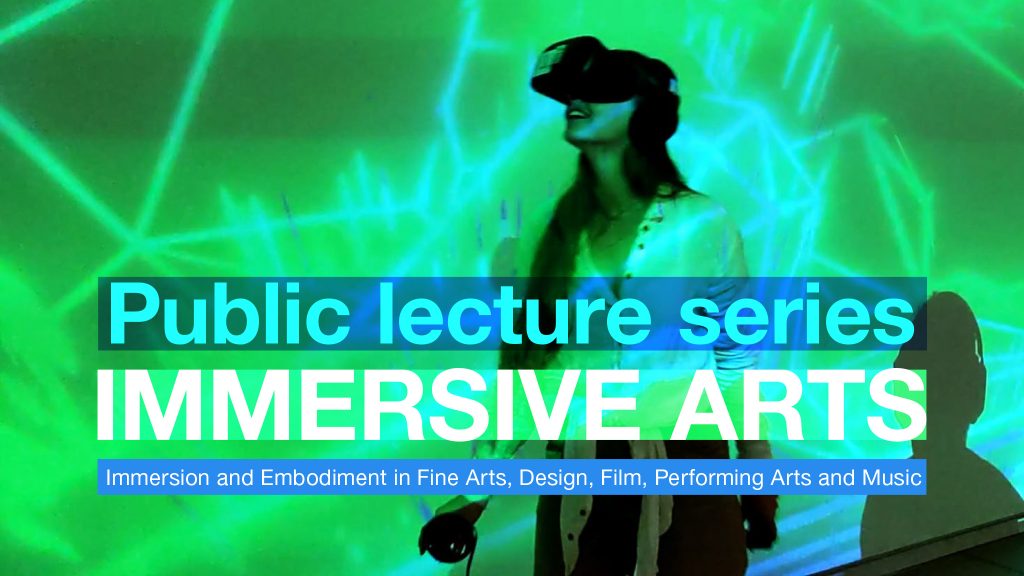 In this series, concepts of immersion as well as embodiment were explored from the different perspectives of fine arts, design, film, performing arts and music, with concrete examples of artistic practices and research projects.
Christian Iseli | Recording from October 12th, 2021
DOUBLE TROUBLE: DIGITAL AVATARS ON STAGE
Anna Lisa Martin-Niedecken | Recording from October 19th, 2021
EXPLORING BODY-CENTERED DESIGN APPROACHES IN MIXED REALITY SPORTS
Olav Lervik | Recording from October 26th, 2021
GAMES IN CONCERT: LESSONS FROM MUSIC IN VIRTUAL REALITY
Marie-France Rafael | Recording from November 23rd, 2021
POST-DIGITAL RELATIONALITY – EMBODIED EXPERIENCES
Melody Chua | Recording from December 7th, 2021
BLACK BOX FADING: (DIS)EMBODIMENT WITH AN IMMERSIVE IMPROVISATION MACHINE
---
Spring Semester 2021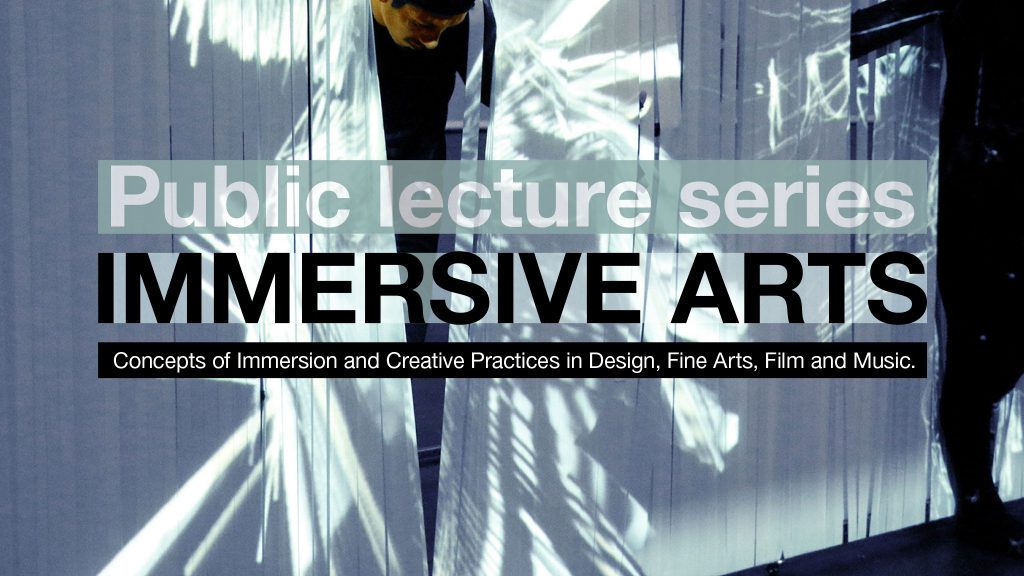 Marcus Maeder | March 16th, 2021
AMBIENT: FROM IMMERSION TO IMMANENCE
Felix Stalder | April 13th, 2021
IMMERSION AS ESCAPISM, CONTROL, OR CO-EXISTENCE
Maike Thies | April 27th, 2021
ENTANGLED IN ARTIFICIAL WORLDS
Hannah Walter | May 4th, 2021
BECOMING WITH TECHNOLOGY. BECOMING CYBORG
Christian Iseli | May 11th, 2021
EXPANDED ILLUSIONS: CINEMATIC CONCEPTS OF IMMERSION
---