REFRESH is a yearly, international conference on Design, Arts and Technology. It is initiated by the Department of Design (Maike Thies) and the Immersive Arts Space (Christopher Salter) and taking place in different locations within Zurich University of the Arts (ZHdK).
---
REFRESH#5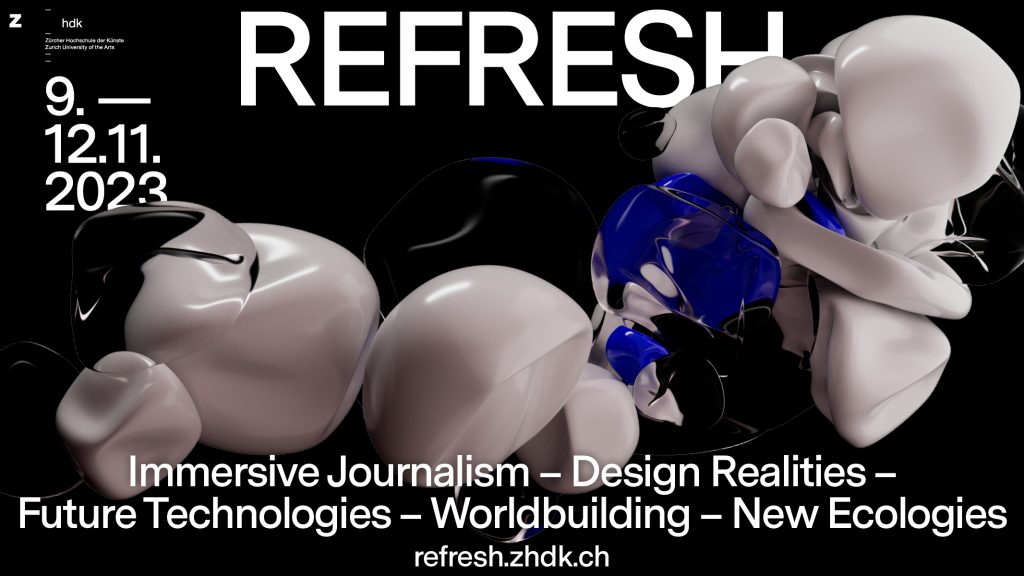 The interdisciplinary festival REFRESH (initiative of the Department of Design and the Immersive Arts Space of ZHdK) took place for the 5th time from November 9th to 12th, 2023. It addressed pressing issues at the intersection of the arts, design and technology in keynotes, masterclasses and a multi-layered exhibition. International designers, artists and researchers provided insights into their work and discussed it with the interested public. The critical topics of this year's edition were «Immersive Journalism», «Design Realities», «Future Technologies», «Worldbuilding», and «New Ecologies».

With guests such as Nikolaj Schultz (sociologist, author of «On the Emergence of an Ecological Class» (2022) with Bruno Latour and author of «Land Sickness» (2023), Sarah Kenderdine (Head Curator EPFL Pavilions and Professor of Digital Museology at the École polytechnique fédérale de Lausanne EPFL), Ian Cheng (Digital Artist), AATB (artist couple focused on experimental robotics) and Sam Wolson (Visual Features Editoris for the New Yorker and an Emmy award-winning director, photographer and journalist).
The Immersive Arts Space had two Spotlight events on November 9th and 10th.
Spotlight I featured an exhibition of three currents projects, that are developed in the lab: Possible Worlds… (Oliver Sahli, Chris Salter), Changing Matters (Lorenz Kleiser, Floris Demandt) and Friendly Fire (Manu Hendry, Florian Bruggisser, Paulina Zybinska uvm.)
Spotlight II on November 10th was be a work exhibition of Zangezi, a Russian Cubo-Futurist poem/play written by the poet Velimir Khlebnikov in 1922. Fragments of Zangezi will be performed as a work in progress that takes the form of a theatrically staged reading within the technical machine of the Immersive Arts Space itself. The work exhibition includes a Q&A with the team members, discussing the usage of AI generated meta humans, environments and characters as well as the usage of a Large Language Model in a artistic project like Zangezi.
---
REFRESH#4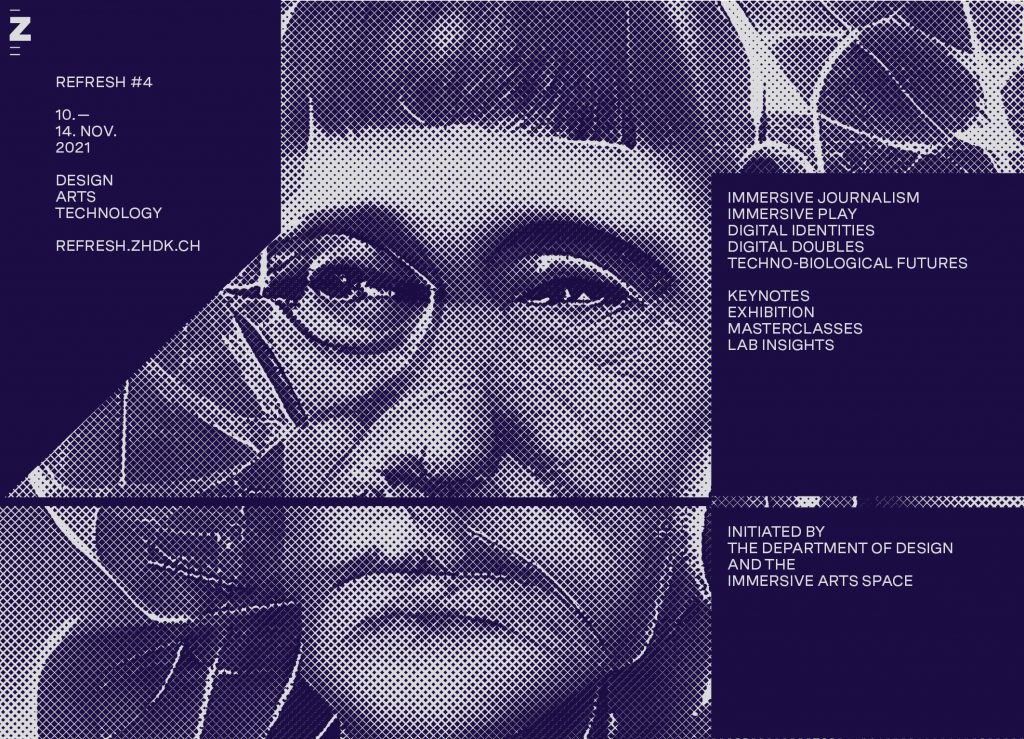 The fourth edition of REFRESH, from 10th to 14th November 2021, focussed on the topics «Immersive Journalism», «Immersive Play», «Digital Identities», «Digital Doubles» and «Techno-Biological Futures». The conference featured keynote speeches including panel discussions with national and international guests as well as a large exhibition have been part of the conference. Photographs of the conference have been published and can me viewed in this gallery.
The Immersive Arts Space hosted the Lab Insights and a VR exhibition. Team members offered insights into the projects Shifting Realities (Chris Elvis Leisi & Olliver Sahli (Multiuser VR), Martin Fröhlich, Max Kriegleder, Joel Gähwiler, Roman Jurt, Mariana Grüning (Helium Drones/ SAR)), Neural Volumetric Capture (Florian Bruggisser), Digital Twins (development of animated digital avatars based on photogrammetry and Meta Humans) and cineDesk (Norbert Kottmann, Valentin Huber).
Further Credits:
Sound Design: Luca Magni
Lights: Sébastien Schiesser
Project Lead: Martin Fröhlich
Production: Kristina Jungic
Head of Unit: Christian Iseli
Photography: Regula Bearth
REFRESH #3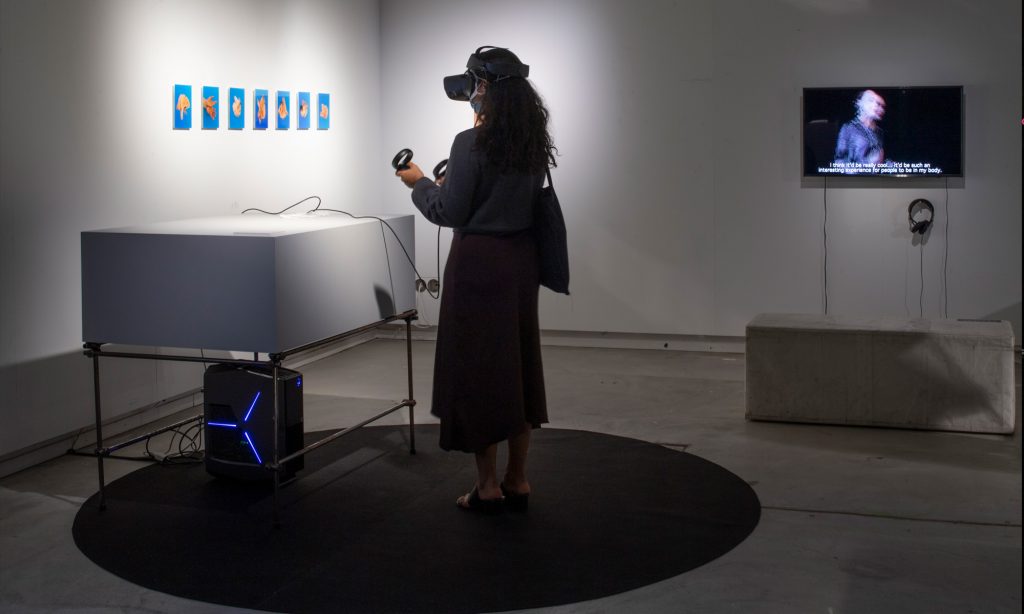 REFRESH #3 took place from 17th to 20th September 2020 featuring keynotes, workshops, performances and an exhibition. Due to the Covid 19 pandemic it was designed as a hybrid event with online presentations of many speakers. The third edition was devoted to the topics «Digital Evidence», «Digital Humans», «Immersive Worlds», «Extended Realities» and «Imagine New Tomorrows».
Selected speakers:
Eyal Weizman (Forensic Architecture)
Kiira Benzing
Derek Bradely (Disney Research)
Jakob Kudsk Steensen
Hsin-Chien Huang
Francesca Panetta & Halsey Burgund (MIT Center for Advanced Virtuality)
Thomas Oberender (Berliner Festspiele)
Susanne Kennedy
Tabita Rezaire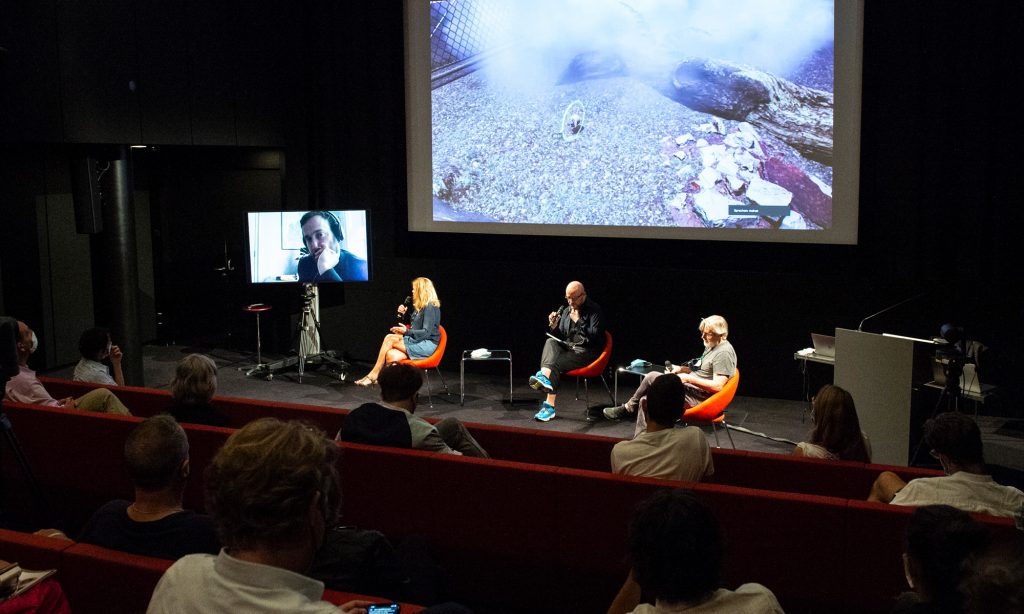 ---
REFRESH #2
REFRESH#2 took place from September 26th to 28th at the
Zurich University of the Arts ZHdK, featuring keynotes, workshops,
performances and exhibitions. The second edition focussed on the topic of Experimental Futures and Immersive Experiences. In close cooperation with Digital Festival and Hack Zurich at neighboring venues.
Selected speakers:
Thomas Oberender, curator and artistic director @Berliner Festspiele
Sarah Ellis, director of Digital Development @Royal Shakespeare Company
Kevin Curran, vision director @Space10
Gayatri Parameswaran, immersive journalist @NowHere Media
Andreas Refsgaard, artist & creative coder
Galit Ariel, future tech expert @Wondarland
Yakeshi Yamada, recruiter @teamLab
Yasaman Sheri, creative director, designer and researcher
Tobias Gremmler, visual artist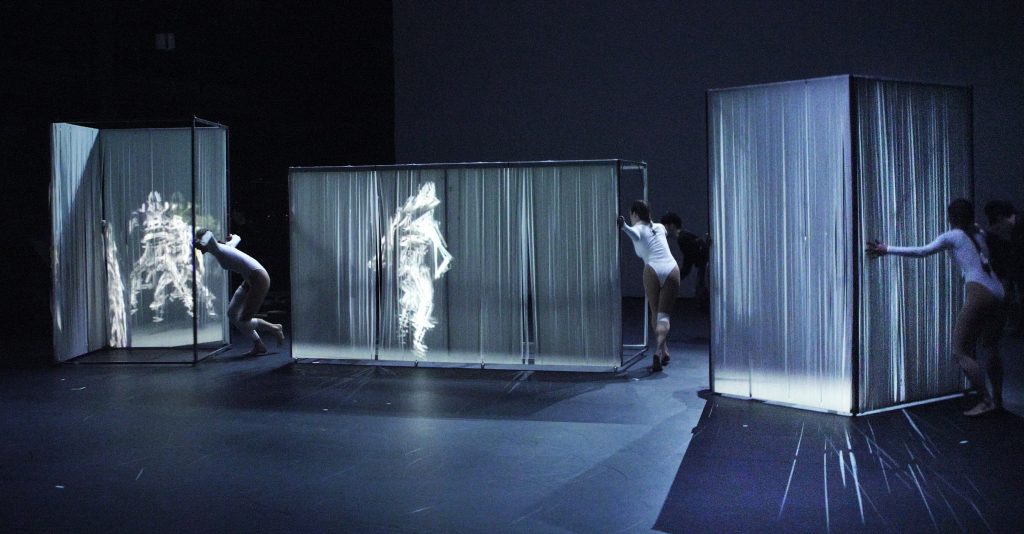 ---