Home in the Distance is based on a short story, written by director and VFX artist Andreas Dahn when he was about 17 years old. In his residency at the Immersive Arts Space he made an animated short film and an interactive VR experience out of it, and applied unique methods of Virtual Production. In contrast to the traditional animation and VFX workflow, which is heavily based on storyboarding and previsualization, the conscious decision was made to leave out these steps, in order to find out if new technologies make it possible to create a more emotional and spontaneous film experience.
Andreas Dahn first constructed the locations, his character and all other digital assets in 3D. With the help of Motion Capture technology he animated the complete story. And finally he shot the 2D film with a virtual camera that he operated in the 3D space with VR goggles. So, he literally shot the film in the virtual space. After the 2D film was finished, Andreas made an interactive VR experience based on the same 3D assets and the same story.
The character was sculpted by hand with dough and photogrammetry was used to create the virtual 3D model. Rigging was done with Human IK in Autodesk Maya. Students from the 3D Akademie Stuttgart helped to model the set and props. In addition, an actor`s performance was motion-captured with OptiTrack in the IASpace at the Zurich University of the Arts (ZHdK).
The camera work was done with a VR tool, developed by Mirko Lempert (Stockholm University ot the Arts) and Simon Alexandersson (Royal Institute of Technology, Stockholm) and rendered in realtime in Unity.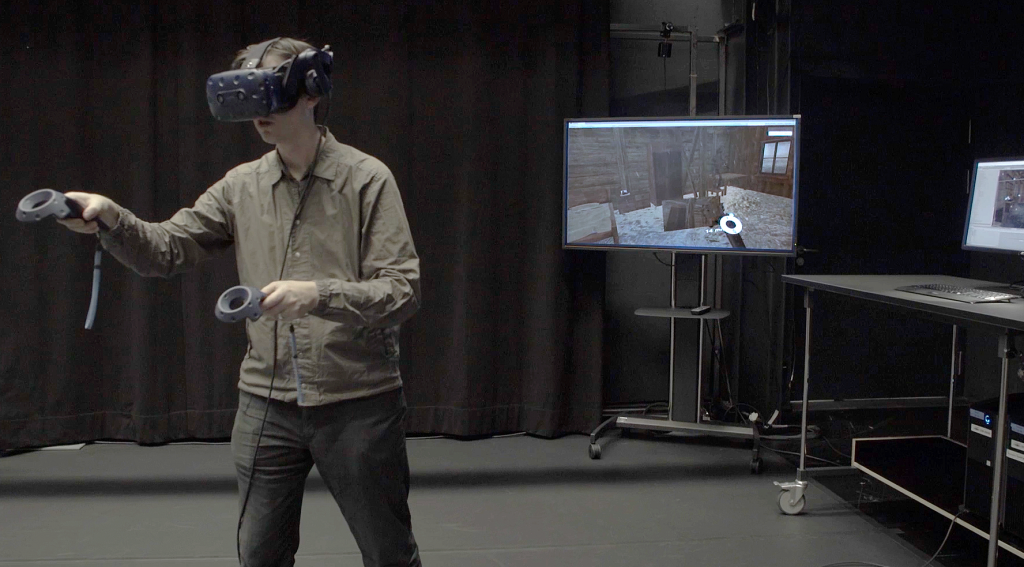 Crew at ZHdK
Cast: Pascal Holzer
Mocap coaching: Corinne Soland
Mocap recording: Norbert Kottmann
Further ZHdK support: Valentin Huber, Robin Disch, Marco Quandt, Lucien Sadkowski, Andreas Birkle, Chantal Haunreiter, Claudia Hürlimann, Thomas Gerber, Stefan Jäger, Martin Fröhlich
ZHdK Residency
The residency at the Zurich University of the Arts has been made possible by the Ernst Göhner Foundation, Switzerland, as well as by additional support of the ZHdK film program (led by Sabine Boss) and by the Immersive Arts Space (led by Prof. Christian Iseli).
Crew at 3D Akademie Stuttgart
Props & set modeling & texturing: Gerrit Gaietto, Katharina Rodak, Kimberly Niesner Pierre Urbanek (Head of 3D Akademie)
Further crew members
Unity VR support: Mirko Lempert, Simon Alexanderson
Junior producer: Jana Günther
Assistent director: Aimée Torre Brons
Sound design: Luis Schöffend, Marc Fragstein
Title design: Timo Kreitz
Screenplay translation: Karen Ma
Special thanks: David Maas, Renate Schirrow, Ella Steiner, Felix Bucella, Alireza Sibaei, Astrid Weitzel
---