Immersive Arts: Interdisciplinary Perspectives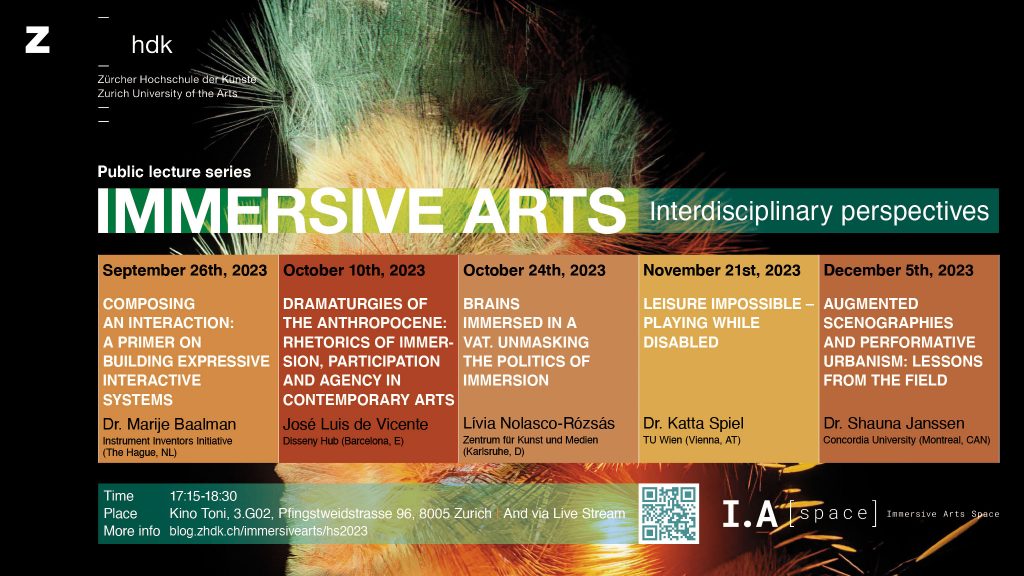 This lecture series investigates questions of immersion from perspectives outside of the immersive arts. Guest lecturers come from curating, computer music and DIYelectronics, embodied human-computer interaction, animation and theater and scenography. Topics will include composing interactive systems, new concepts of extended animation, curating immersive experiences, disability and human computer interaction and new concepts of XR-based performative scenography in urban contexts. 
---
26th September 2023 | 17:15-18:30 | Lecture by Dr. Marije Baalman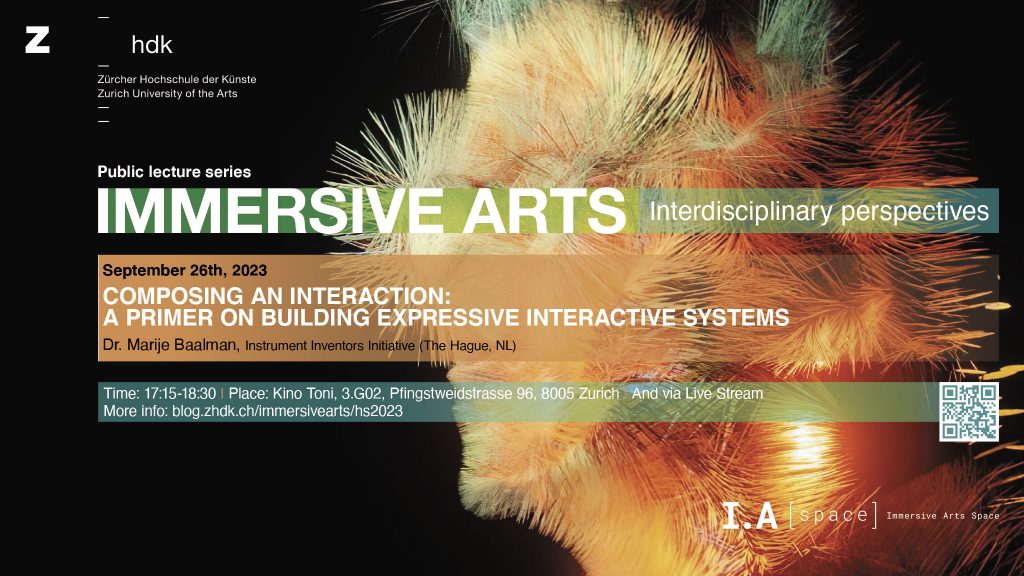 COMPOSING AN INTERACTION: A PRIMER ON BUILDING EXPRESSIVE INTERACTIVE SYSTEMS.
Dr. Marije Baalman is an artist, researcher and co-founder/co-director of Instrument Inventors Initiative (Den Haag/NL)
Live Stream of Dr. Marije Baalman`s lecture [here]
---
10th October 2023 | 17:15-18:30 | José Luis de Vicente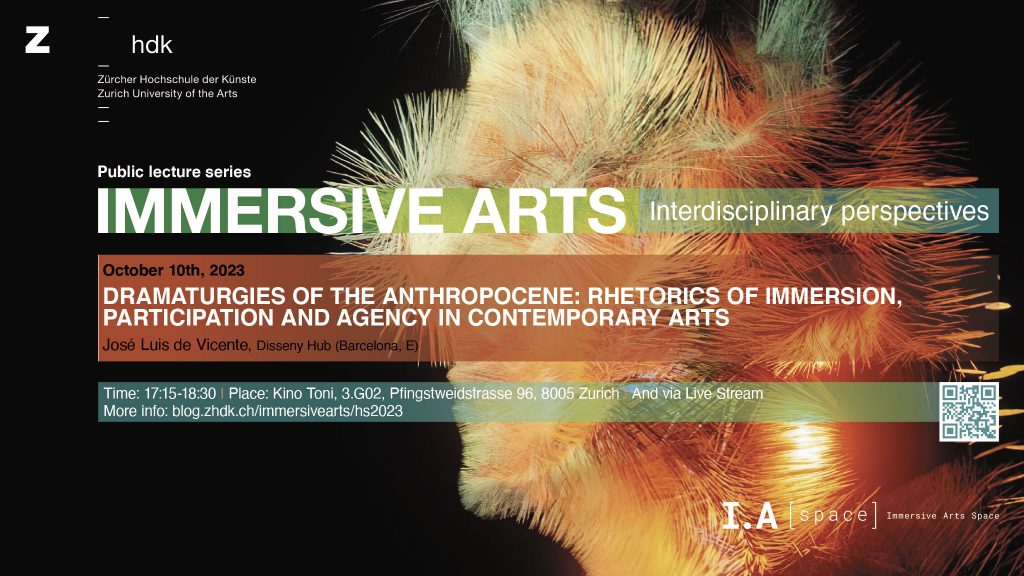 DRAMATURGIES OF THE ANTHROPOCENE: RHETORICS OF IMMERSION, PARTICIPATION AND AGENCY IN CONTEMPORARY ARTS
José Luis de Vicente is curator and cultural researcher. Most famously, he is the director of Disseny Hub / Design Museum in Barcelona.
---
24th October 2023 | 17:15-18:30 | Livia Nolasco-Rózsás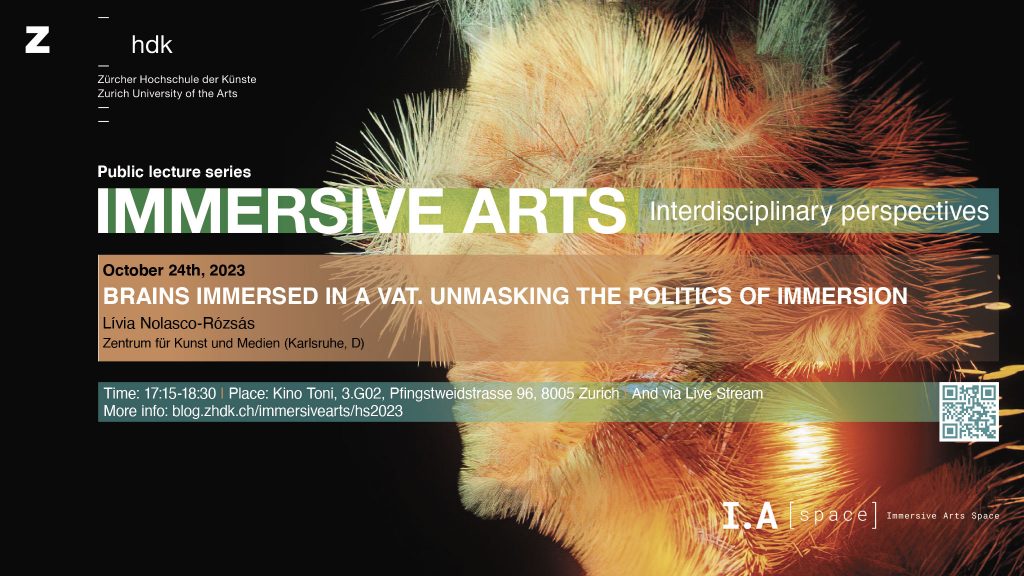 BRAINS IMMERSED IN A VAT. UNMASKING THE POLITICS OF IMMERSION
Livia Nolasco-Rózsás is curator and researcher at the Zentrum für Kunst und Medien (Karlsruhe/DE) and University College London (UK).
---
21st November 2023 | 17:15-18:30 | Dr. Katta Spiel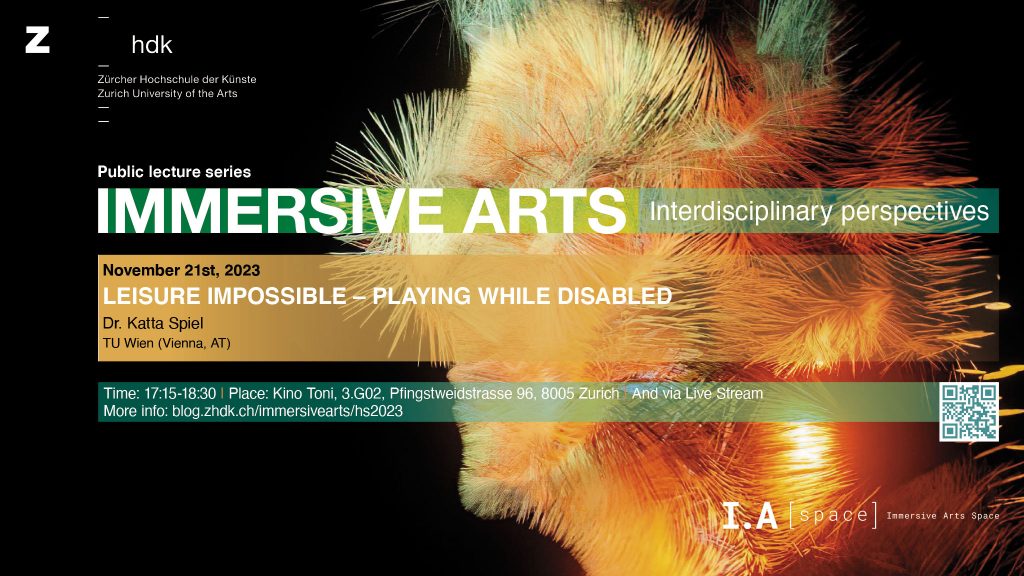 LEISURE IMPOSSIBLE – PLAYING WHILE DISABLED
Dr. Katta Spiel is an assistant Professor in Critical Access in Embodied Computing, Human Computer Interaction Group, Technische Universität Wien (Vienna, AT).
---
5th December 2023 | 17:15-18:30 | Dr. Shauna Janssen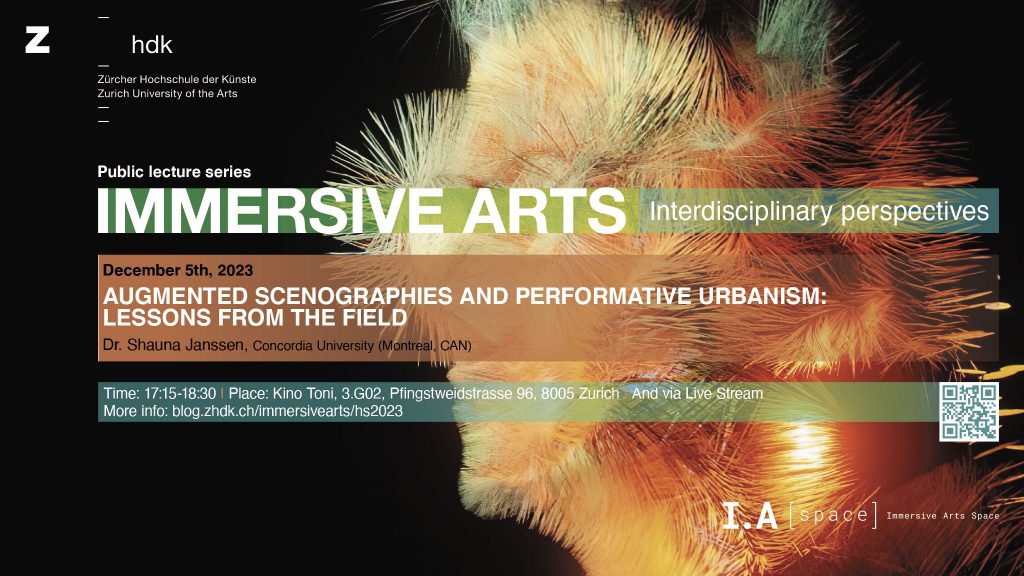 AUGMENTED SCENOGRAPHIES AND PERFORMATIVE URBANISM: LESSONS FROM THE FIELD
Dr. Shauna Janssen is an associate Professor and research chair in Performative Urbanism at Concordia University (Montreal/CAN).
---