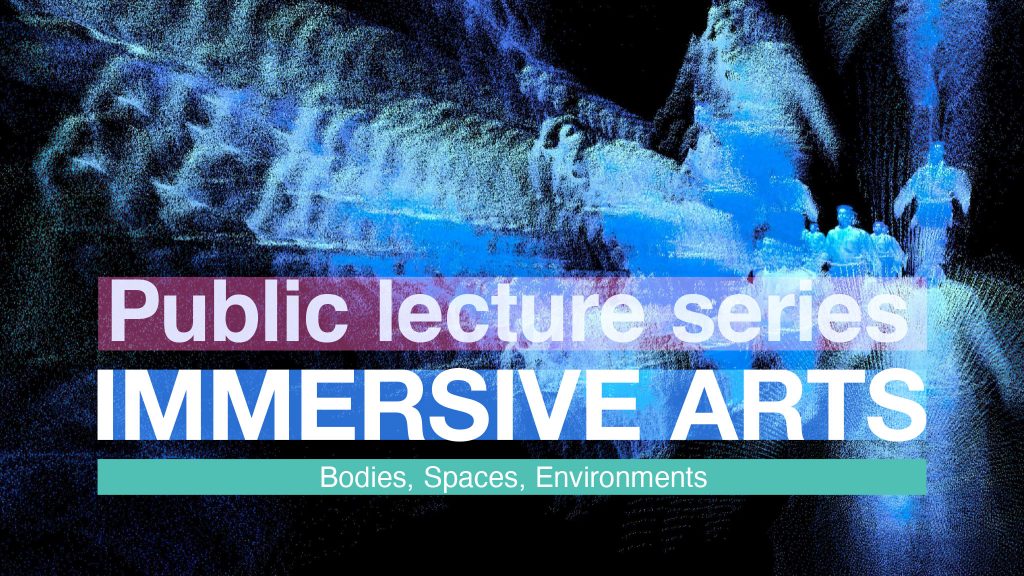 The Immersive Arts Lecture Series for Spring semester 2023 investigates artistic and design experiences in which humans, media and architectural spaces shape one another within the context of the built environment. Guest lecturers who come from the fields of digital arts, architecture, theater studies and the visual arts, will focus on specific artistic works from their practice, as way to open up critical discussion around emerging paradigms of bodily experience in spatial computing environments, human-machine interactions in architectural spaces, and immersive experiences between human, technical and natural systems.
The pubic lecture series take place at the Kino Toni (room 3.G02, Pfingstweidstrasse 96) from 17:15-18:30h.
---
ON ATMOSPHERIC FOREST
Atmospheric Forest visualizes the complex relations between the forest, climate change and atmosphere. Trees are not only oxygen generators, but they breathe as well, and emit large amounts of volatile organic compounds into the air – we recognize it as a habitual scent of the forest. Scientists have long known about the link between a fragrant forest and the warming climate, but are uncertain about the impact and scale. Atmospheric Forest VR artwork is the outcome of a three-year artistic research project on Pfynwald, an ancient Swiss Alpine coniferous forest suffering from drought due to climate change; the scientists from WSL Research Institute have turned this forest into a "living observatory".To create the Atmospheric Forest VR artwork, the artists scanned the Pfynwald creating a virtual point cloud environment, and visualized the data provided by scientists. The data sets collected during one growing season included measurements of volatile emissions, resin pressure in pine tree trunks and changing weather. The artists transformed these data into animated particle flows, revealing the complex interaction between the forest ecosystem and atmospheric processes.
As part of the Lecture Series, Atmospheric Forest will be presented on the evening of 08.03.23 in the Immersive Arts Space.
Rasa Smite is an artist, network researcher and cultural innovator, working with science and emerging technologies since 90s. She is founding director of RIXC Center for New Media Culture in Riga, curator of its annual festivals, and a chief-editor of Acoustic Space – peer-reviewed publication series. She holds a PhD in sociology of culture and media (from Riga Stradins University, 2011), and MA in visual arts (from Arts Academy of Latvia, 2000). Currently she works as associate professor in New Media Art programme at Liepaja University. She is author of the books – "Creative Networks. In the Rear-View Mirror of Eastern European History", published by Amsterdam Institute for Network Culture (2012), and "Talk to Me. Exploring Human-Plant Communication" (Published by RIXC, 2014). She is also author of numerous articles and co-editor of the Acoustic Space series issues.
---
ON ANIMATE
Animate is an Extended Reality-based theater work (XR) at the crossroads of performance, radio play and installation focused on a near-future Canada radically transformed by climate change. Developed by a team of Canadian and German artists and researchers, the work premiered in Summer 2022 in large theater festivals in Germany and is preparing for a 2023 international tour in Europe, Canada and Asia. The story "Animate" focuses on two characters, Daniel and Laurie, who are fleeing a near future of climate disasters. As part of its dramaturgical strategy, Animate harnesses a recent XR technology to explore this potential mixing of real and the simulated in worn AR: live video "passthrough" which takes a real time video feed from the tiny cameras attached to a head mounted display (HMD) and which allows the embedding of computer-generated 3D objects into the video feed of the real environment. Animate aims to use emerging XR technologies to explore the thematic of climate change through the sensorial-aesthetic possibilities of "spatial computing" in which "human interaction with a machine in which the machine retains and manipulates referents to real objects and spaces" shifts older understandings of the virtual as abstracted from the lived, moving body.
Christopher Salter is an artist, Professor for Immersive Arts and Director of the Immersive Arts Space at the Zurich University of the Arts (ZHdK). He is also Professor Emeritus, Design and Computation Arts at Concordia University in Montreal, former Co-Director of the Hexagram network for research-creation in arts, cultures and technology and Co-Founder of the Milieux Institute at Concordia. His artistic work has been seen all over the world at such venues as the Venice Architecture Biennale, Barbican Centre, Berliner Festspiele, Wiener Festwochen, ZKM, Kunstfest Weimar, Musée d'art Contemporain, Muffathalle, EXIT Festival and Place des Arts-Montreal, among many others. He is the author of Entangled: Technology and the Transformation of Performance ( 2010), Alien Agency: Experimental Encounters with Art in the Making (2015) and Sensing Machines (2022), all from MIT Press.
---
ON DEGREES OF LIFE
Degrees of Life is a responsive environment exhibited in February 2022 at ZentrumFokusForschung in Vienna. The project explores the interaction between humans and living systems at an architectural scale, developing interactive environments within an architectural space that learn, grow, and decay in relation to human presence and behavior. The space reflects on the concept of biomediality and biofacts, the possible applications of living technologies, and human sensory interfaces in architecture. Degrees of Life is the result of a larger artistic research context called Co-corporeality that weaves together architectural design, sensor systems, machine learning, and microbiology. The exhibition pursues the idea of interactive architecture as a living system, in which physical presence and new modes of observation are intertwined with tangible forms of computation.
Daniela Mitterberger received her architectural master degree with honors at the Academy of Fine Arts Vienna. Within her studies in Vienna, at the Hong Kong University (HKU) and the Royal Danish Academy of Fine Arts in Copenhagen she developed a deep seated interest in the topics of bodies in architecture, human body as architecture and the definition of technology and tools within the field of architecture. Daniela's work ranges from digital experiments to analog production, combining the fields of media culture, philosophy and narration with architecture. Currently, she is a Ph.D. researcher and A&T Ph.D. Fellow at the Chair of Architecture and Digital Fabrication (Prof. Fabio Gramazio, Prof. Matthias Kohler) focusing on intuition in digital design and robotic fabrication.
---
A DATA-DRIVEN DRAMA
While progressively churning all aspects of life into data, the digital escapes conventional material methods of observation and measurement. Digital materiality has been addressed by numerous media, communication and infrastructure studies, often focusing on a single effect like their carbon footprint, as the principal measure of anthropogenic pollution in the ongoing climate crisis. My research is concerned with expanding the perspective on digital materiality. Such a perspective should be able to include unlike dimensions in a perfromance: the design of graphical interfaces, internet users labour, their emotional states, purchase decisions, rare mineral mining and the labour of assembling electronic devices, automated collection of user data, financial transactions within AdTech markets, energy consumption and carbon-footprint of these processes. In this talk, I will focus on reading digital materiality through the operations of internet-based platforms and their immersive grip on users. In particular, I will propose performance-based methods to experience these operations through staging. The convergence of space, time, networks and bodies in the performative medium relates and renders experienceable the otherwise incommunicable material entanglements. If we are, as Chun suggested, characters in a 'big data' drama, then exposing the drama is to expose the roles and scripts that are in place, enabling them to be questioned and possibly undone.
Selena Savić is a researcher and trained architect. Her research interests revolve around the mixture of computational processes with the built environment, exploring ways to communicate communication processes. After her PhD at EPFL and a postdoc at ATTP, TU Vienna, she joined the IXDM at the FHNW Academy for Art and Design where she is currently Head of the Make/Sense PhD programme. She edited two books (Ghosts of Transparency, 2019 and Unpleasant Design, 2013) and writes about computational modeling, feminist hacking, and post human networks in the context of design and architecture.
---
AMBIVALENT PRACTICE OF IMMERSIVE INSTALLATION AND PERFORMANCE
Since the early nineties, Kurt Hentschlager creates media installations and live shows, most always audiovisual and immersive in nature. The ever-deepening effects of digital technology on individual and collective consciousness, and a subsequent reassessment of concepts of nature and artifice are among the subject matters that inform his practice. His shows have characteristically been visceral and challenging, with extreme perceptual effects, composed from projections, light, sound and fog. These works physiologically and emotionally affect the viewer's experience. His approach is interdisciplinary and experimental fusing both analogue and digital media. His artistic process is rooted in an early and continuing focus on human interaction with architectural space, light and sound, loosely within the concept of the "Gesamtkunstwerk". A recurring topic in his more recent works such as as Sub, FeedX, Zee and others is the human body with its perceptual brain "apparatus", especially the way that the brain processes the world, colored always by cultural background, habits, imagination, subjectivity and individual psychology.
New York-based Austrian artist Kurt Hentschläger creates audiovisual performances and installations. He began to exhibit his work in 1983, and since has been working predominantly with time-based media, light and sound. The immersive nature of his work reflects on the metaphor of the sublime and the human condition in the 21st century. His current work continues to investigate human perception and the impact of new technologies on both individual and collective consciousness. Between 1992 and 2003 he worked collaboratively as the artist duo "Granular-Synthesis". Selected presentations include the Venice Biennial, the Venice Theater Biennial, Stedelijk Museum Amsterdam, Fondation Beyeler Basel, MAC – Musée d'Art Contemporain Montreal, MAK – Museum of Applied Arts Vienna, ICC Tokyo, Arte Alameda Mexico City, MONA – Museum of Old and New Art, Hobart, Tasmania.
---