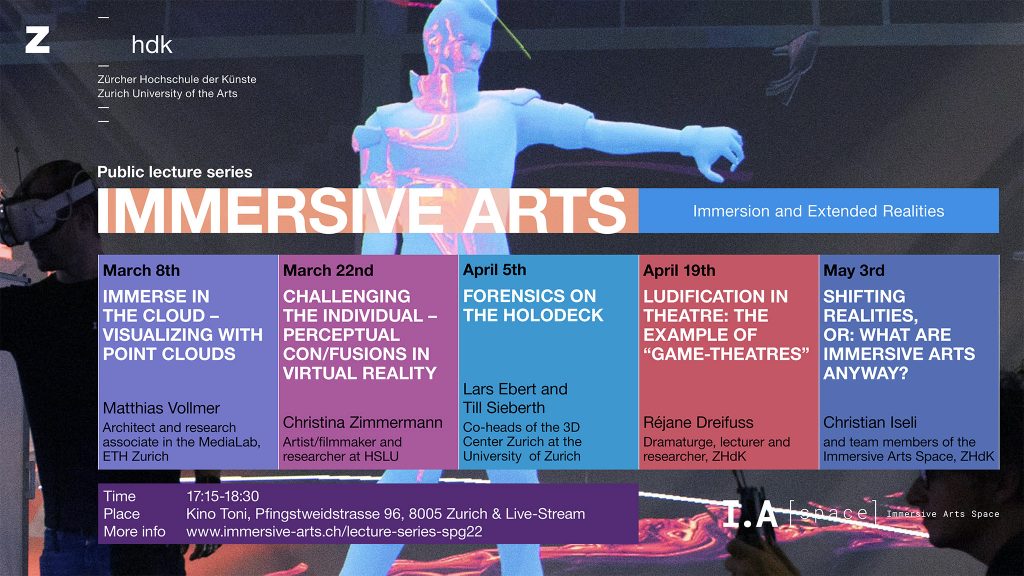 In this series, guest lecturers from the Swiss Institute of Technology ETHZ, the Lucerne University of Applied Sciences HSLU, the University of Zurich UZH shared their specific views along with lecturers from the ZHdK. The topics covered Architecture, Virtual Reality, Virtual Forensics, Game Aspects in Theatre and Extended Reality.
Matthias Vollmer | Recording from March 8th, 2022
IMMERSE IN THE CLOUD – VISUALIZING WITH POINT CLOUDS
Christina Zimmermann | Recording from March 22nd, 2022
CHALLENGING THE INDIVIDUAL – PERCEPTUAL CON/FUSIONS IN VIRTUAL REALITY
Lars Ebert | Recording from April 5th, 2022
FORENSICS ON THE HOLODECK
Réjane Dreifuss | Recording from April 19th, 2022
LUDIFICATION IN THEATRE: THE EXAMPLE OF "GAME-THEATRES"
Christian Iseli | Recording from May 3rd, 2022
SHIFTING REALITIES, OR: WHAT ARE IMMERSIVE ARTS ANYWAY?
---
Matthias Vollmer, MediaLab, ETH Zurich
Laser scanning and photogrammetry have become prevalent technologies over the last decade for recording spaces and are capable of depicting spaces in a very precise, detailed and legible manner. The resulting data, a point cloud, can be categorized as a metrically accurate, measured model but beside its geometric precision, the point cloud has another, greater potential. The visual representation of a point cloud is exceptional, oscillating between the realistic and the surreal, while its appearance is elusive. Its base is a point, a fundamental notion that describes a precise location in space and has no length, width, or thickness.
However, the point cloud is capable of representing spatial complexity like no other geometry. Shape and space is described pixel by pixel, always incomplete yet surprisingly detailed. Impenetrable rocks become translucent, expose their inner tubular system and layers of landscape are put in a new relation. The digital void is filled with notes of delicate leaf structures and our own imagination completes the arrangement of a garden. As we move through the point cloud, we are immersed in an alternative aesthetic paradigm that conveys our surroundings in impossible, expanding, and enchanting ways.
Matthias Vollmer is an architect and research associate in the MediaLab at the ETH Zurich. After completing his degree in film studies at the Zurich University of Arts (ZHdK), he pursued a bachelor's and master's degree in architecture at the ETH. His research examines the relationship between architecture and landscape through visual media, including laser scan technology, film and analog photography. He is also co-founder and co-director of SCANVISION, an ETH Spin-off in the field of 3D-measurement and visualization and co-founder of the architectural office Atelier Schweizer Vollmer.

---
Christina Zimmermann, HSLU
Immersion is a variously shaped and fragile state of mind that is easily lost due to sensual input that ´the "I" may experience as unfitting, disturbing, improper, alien, surprising, strange, unfamiliar, errant, etc. Sometimes, irritating triggers are incorporated into the design of the user experience of a VR-world. Sometimes they originate (un)intendedly in the real world and remind us of our divided corporal condition.
In this lecture, I will comment on a selection of alienating situations that I experienced in recent VR pieces. The transformative impetus of VR on our self-concept is mind-opening and encourages speculation on the ontology of the perceptive and/or ludic self and the supposedly formative influences of media on our cognitive or even behavioral capacities. I will trace these experiences back to a model of perception derived from the field of cognitive psychology and process philosophy. Once having established a preliminary inventory of the complex perceptual situation in VR, I will switch to practical considerations concerning VR conceptualization and writing: How can spatial and interactive experiences be translated into a linear reading setup? After a short deviation into the history of scriptwriting and its condensation into a conventional format, I will share aesthetic and formal solutions for scriptwriting in VR, found during a previsualization experiment for the interactive VR-Film "The True Film" (in development) performed at the Immersive Arts Space, ZHdK.
Christina Zimmermann (PhD in Fine Arts, Art & Design and Media Art) is an artist/filmmaker and senior researcher at Lucerne University of Applied Arts and Sciences. She also works as a film curator for the Kassel Documentary Film and Video Festival. Her research interests focus on experimental film narration, dramaturgy, theories of perception, and film philosophy. Since her graduation from the Academy of Media Arts Cologne, she has been lecturing and coaching film in different academic contexts: Bauhaus-University Weimar (2005-2010), FHNW Basel (2017) and since 2017 in the Master Film programme at Lucerne University of Applied Arts and Sciences. Christina's work has been screened internationally and she has received various grants and awards (including from the Japanese Society for the Promotion of Science, the Research Association Marbach, Weimar, the Wolfenbüttel "Digital Humanities" and the Swiss National Science Foundation SNSF).

---
Lars Ebert, 3D Center, University of Zurich
The degree of digitalisation in forensics gradually increases in line with technical innovation. Recently, different applications for Virtual Reality have been developed for technical forensics and forensic medicine. This includes teaching and education in forensics, but also advanced crime scene visits for investigation purposes and the support of court procedures. However, to fulfil this purpose, the digitisation of a forensic incident is necessary – including the scene, the people involved and any relevant objects.
A variety of 3D documentation and visualisation methods and their use in forensic investigations will be presented. First medical imaging methods, such as Computer Tomography Magnetic Resonance Imaging, will be introduced to explain how they are used by forensic pathologists for documenting evidence, preparing autopsies, and reconstructing incidents. In addition to medical imaging, optical surface scanning methods are used in all forensic areas, from the documentation of deceased and living persons to crime scene and object documentation. The data gathered by these methods can then be used by 3D experts in conjunction with the findings made by other forensic experts to reconstruct the incident in 3D and visualise the findings and interpretation of the evidence.
Lars Ebert has been working since 2007 in the field of forensic medicine and is Co-head of the 3D Center Zurich. He studied computer science in Oldenburg (Germany) and has a Ph.D. in biomedical engineering from the Institute of Surgical Technologies and Biomechanics and the Institute of Forensic Medicine in Bern. His main focus in research is the application of methods from computer science and imaging to solve problems in forensic medicine. He is a founding member of the International Society of Forensic Radiology and Imaging and a member of the editorial board for the journal Forensic Imaging.
---
Réjane Dreifuss, Department of Performing Arts and Film, ZHdK
For the last fifteen years, theatre has been using more methods and tools from interactive digital media and computer games. This has led to the rise of new forms of narration and also new relationships that occur with the audience. So called "game theatres" make use of the logic of computer games and rely on their performative and rule-guided storytelling – an adaptation from a digital to an analogue setting. Leading to the creation of larger 'dramaturgical experience spaces', "game-theatres" are no longer bound to a specific place and time – as was the case in traditional theatre – and often make use of entire buildings or industrial wastelands. In these theatrical forms, there are hardly any spectators, as the passive observation shifts to an active participation in the performance. In this perspective, "game-theaters" involve a radical transformation of what was previously a largely untouched triangle made up of "theatre", "production" and "audience". Instead, it is moving towards a form of reciprocal co-creativity that takes all participants out of their traditional roles and turns them into collaborators or co-activists, equally participating in the creation of 'performative events'.
The concepts of participation and immersion which are characteristic of virtual worlds are of particular relevance for "game-theatres", as the two case studies included in this lecture will demonstrate.
Réjane Dreifuss has worked as a dramaturge and project manager for the theatre company sonimage. Together with the author and director Igor Bauersima, she has written and directed theatre plays under the pseudonym Réjane Desvignes, in which digital technologies played a crucial role in the creation of narratives. Réjane Dreifuss has been working at the Zurich University of the Arts ZHdK since 2016, teaching and researching the influence of digitalization on theatre, with a particular focus on the generation of new narrative forms.

---
Christian Iseli and team members of the Immersive Arts Space, ZHdK
The Immersive Arts Space and the associated professorship have existed at the ZHdK for almost three years. Based on the current artistic research project Shifting Realities, this lecture will review the development to date of multifaceted practices and positions. Taking stock of the first three years is also an opportunity to ask about definitions and the practicing of immersive artforms in an international context.
The lecture will include dialogues with individual members of the research team. It also signals a change in personnel. Towards the end of the semester, Christian Iseli will hand over the professorship and the affiliated art/tech lab to his successor, Chris Salter.
Christian Iseli has been teaching and researching at the Zurich University of the Arts ZHdK since 1995. He holds a professorship for Immersive Arts, heads the Immersive Arts Space and teaches in the MA Film program. After studying history, German and English literature at the University of Bern, Iseli was a director of documentary films and worked in editing and cinematography on feature films and documentaries.
---