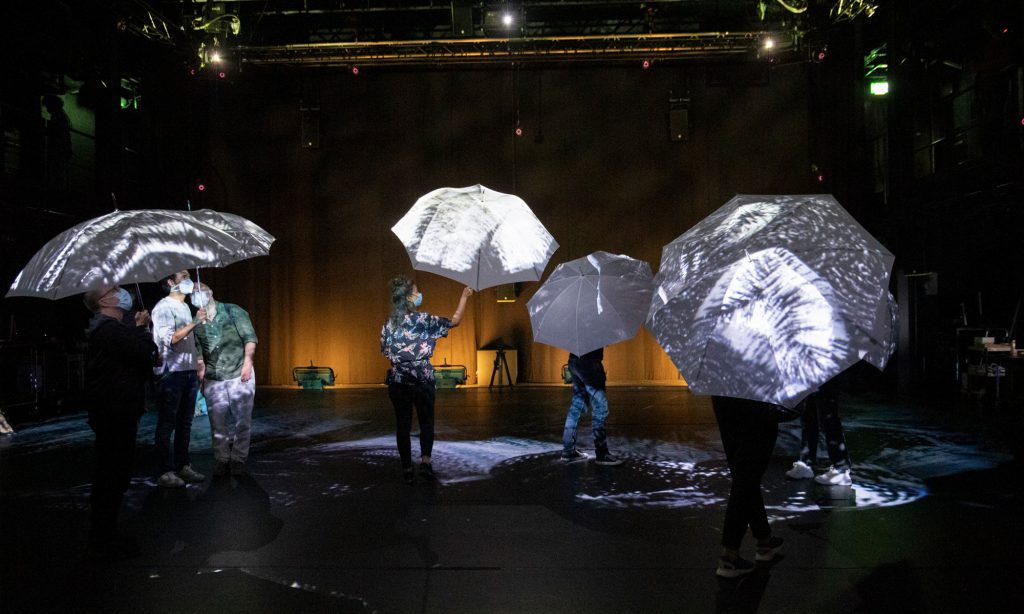 The Umbrella Project is a research project that explores the use of 3D audio and projection mapping to achieve a sense of immersion without isolating participants from the real world, essentially, enabling an imaginary fantasy world to come to life in our own. We employ multiple levels of 3D audio and projection mapping (both directly within and on the umbrella, as well as throughout the room itself) in order to transport the participant into this virtual world.
The end goal of the project was to create a series of navigable compositions in the form of exploratory sonic worlds, as well as intereactive experiences where the participants' behaviours (relative to each other and the world) shape the sonic and visual environment. Furthermore, we were investigating sonic and visual paradigms where the umbrellas can function both as objects existing in and can interact with the virtual world, as well as being windows onto these other worlds.
Naturally, these environments are best experienced from directly underneath the umbrella, where one can best appreciate the various levels of MR.
A spin-off of The Umbrella Project was presented at the REFRESH conference: An installative performance with the title A Day at the Beach.
Crew:
Eric Larrieux (lead), Stella Speziali, Martin Fröhlich, Corinne Soland, Mariana Vieira Grünig
---