Filmmaker in Residence Gayatri Parameswaran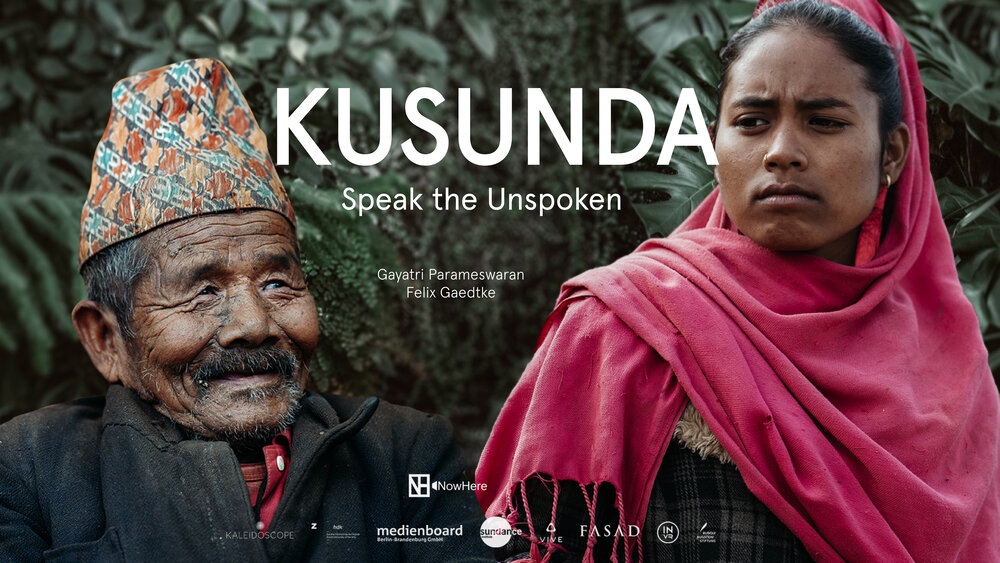 KUSUNDA is a virtual reality documentary experience about what it means to lose a language and what it takes to keep one alive.
Narrated by two of its co-creators — 86-year-old Kusunda shaman Lil Bahadur and his 15-year-old granddaughter Hema — the experience contrasts two generations set apart by their lifestyles and brought together by the struggle for their indigenous identity.
In the VR experience, you join Hema as she reminds her grandfather of his forgotten mother tongue. You navigate by speaking words in the endangered Kusunda language and join an audible fight against its extinction.
Most of Lil Bahadur's story happens in the past — especially his life in the forest as part of a hunter-gatherer group. The recreation of this non-existent past lends itself naturally to the use of animations within virtual reality.
With the help of the motion capture facilities at the Immersive Arts Space at the Zürcher Hochschule der Kunst (ZHdK), actors were recorded recreating these sequences from Lil Bahadur's past. This not only simplifies and speeds up the process of character animations but also offers unique possibilities for the documentary storytelling form.
Crew at ZHdK:
Cast: Yan Balistoy, Offir Limacher, Johannes Voges, Ferhat Türkoğlu, Liliana Heimberg, Corinne Soland, Oliver Sahli, Kristina Jungic
Mocap coaching and production: Corinne Soland
Mocap recording: Tobias Baumann
IASpace producer: Kristina Jungic
Further ZHdK support: Chantal Haunreiter, Martin Fröhlich, Stella Spezialli
ZHdK Residency
The residency at the Zurich University of the Arts has been made possible by the Ernst Göhner Foundation, Switzerland, as well as by additional support of the ZHdK film program (led by Sabine Boss) and by the Immersive Arts Space (led by Prof. Christian Iseli).
Further crew members:
Co-creators: Gyani Maiya Kusunda, Hema Kusunda, Lil Bahadur Kusunda; Storytelling/Production coordination: Felix Gaedtke, Gayatri Parameswaran; Executive Producer: Rene Pinnell; Associate Producer: Mia von Kolpakow; Co-Producers: Emma Creed, Aliki Tsakoumi, Sönke Kirchhof, Philipp Wenning, Kuan-Yuan Lai; Lead Developer: Tobias Wehrum; Art Director, 3D designer & animator: Moritz Mayerhofer (and team); Volumetric Video post-processing: INVR.SPACE; Photogrammetry post processing: realities.io; AI speech recognition: Valerio Velardo; Sound designer: Mads Michelsen; Project website: Tom Lutherburrow | Nepal Production team: Direction/Production: Felix Gaedtke, Gayatri Parameswaran; Line Producer Nepal: Deepak Tolange, Sandeep Bhaju; Volumetric Video & Photogrammetry: Felix Gaedtke, Gayatri Parameswaran; DoP and Drone pilot: Aditya Thakuri; Sound recordist: Mia von Kolpakow; Kusunda linguistics researcher: Uday Raj Aale; Driver: Dharmendra Shakya
---