November 1st – November 3rd, Immersive Arts Space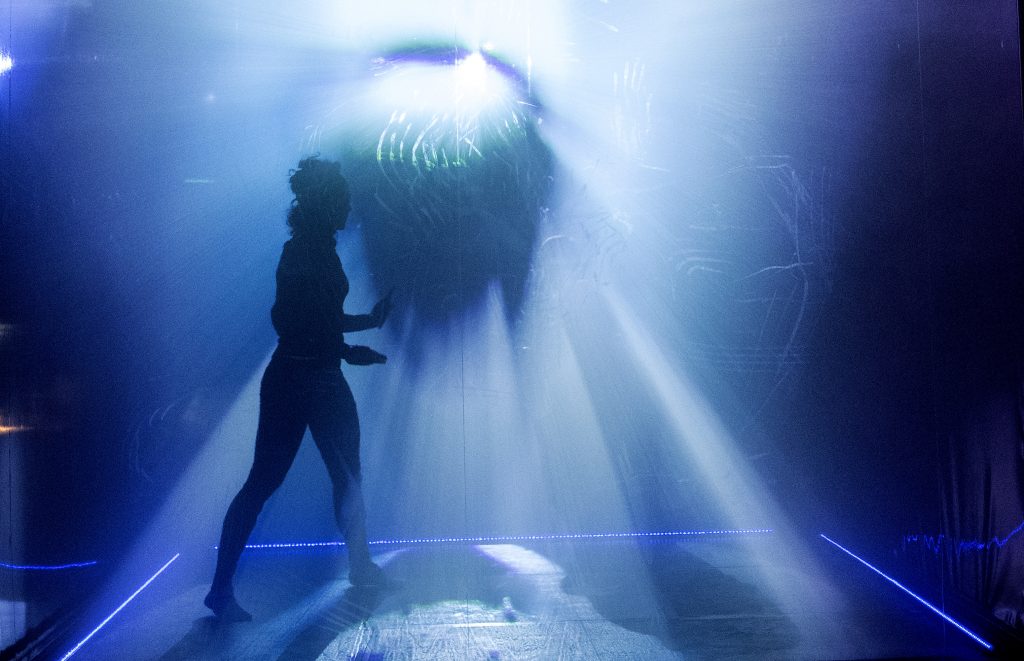 In the fog it began: Everything was already there – it just had to be untangled. The dream as a nebulous form of consciousness is fascinating. And it's inspiring: In a transdisciplinary tour de force we created a dream machine whose taming has been robbing us of sleep for weeks. Our collective group dream can now be experienced as an installation.

Dance, motion-tracking, live projections, sounds and a lot of heavy fog: "state: lucid" combines installational and performative elements by means of advanced technology to a holistic, immersive experience.
The premiere of Robi Voigt's diploma project state: lucid will take place on November 1st, 2020, with further performances on the following two days, in cooperation with the Swiss Digital Days.
Performances in the Immersive Arts Space
Sunday, November 1st: 18.00 | 19.30
Monday, November 2nd: 18.00 | 19.30
Tuesday, November 3rd : 18.00 | 19.30
Admission free of charge with mandatory online ticket (cf. below).
Location map
Free tickets via Xing are available here. Please note: There's no need for creating a password or a login. You can get the tickets directly.
Crew
Robi Voigt – concept, installation, staging, video
Mira Studer – dance, choreography
Stella Speziali – interaction design
Friederike Helmes – costumes, lighting, collaboration installation
David Eliah Bangerter – composition, sound
Stefanie Olbort – dance, choreography
Line Eberhard – the eye from outside
Technical support: Martin Fröhlich, Tobias Baumann, Eric Larrieux, Viktoras Zemeckas, Hans-Jürg Hofman, Matthias Röhm, Lukas Keller, Thomas Utzinger, Michel Weber, Lucien Sadkowski, Dominik Fedier.

---